See Twelve Minutes Of Clips From The Road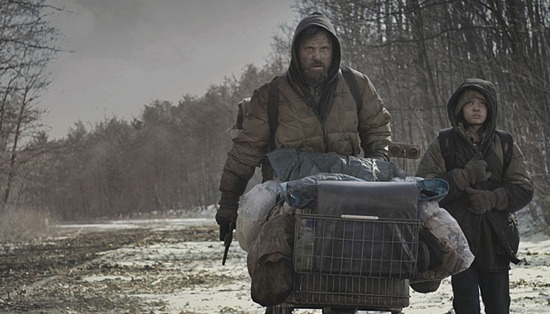 John Hillcoat's adaptation of Cormac McCarthy's novel The Road, starring Viggo Mortensen and Codi Smit-McPhee, is finally starting to be seen. The picture screened for some press in New York City earlier this week, and is now getting decidedly mixed critical notes out of the Venice Film Festival. Now five clips from the film are online, comprising about twelve minutes of footage. See them all after the break (if you just can't wait for the film).
I'm going to be honest: I haven't watched but little flashes of these clips, and don't plan to watch them in full. I'm interested enough in the film as is, and I'd rather see it all in proper context. I scanned through them quickly, however, and put together they look like a much longer assembly of the trailer; much of the footage we've already seen comes from these scenes. And I saw enough to catch the tone, which seems to be far closer to the book than even the trailer suggested. (One of Garret Dillahunt's glances towards Codi Smit-McPhee in the 'You Never Killed a Man' clip is just insanely chilling.) No surprise there, as the trailer was cut to appeal to a broad audience, and despite Oprah's book club seal of approval, this film is very likely not one with broad appeal to all audiences.
The Nick Cave and Warren Ellis score sounds a bit more conventional than I expected in the couple of high-energy moments I saw here, but there is definitely some good atmospheric stuff in there, too. I'm as excited to have the music as a stand-alone entity as I am to see the full film, as their work for The Assassination of Jesse James by the Coward Robert Ford is something I frequently go back to.
[via io9]