The Top 25 British Films Of The Last 25 Years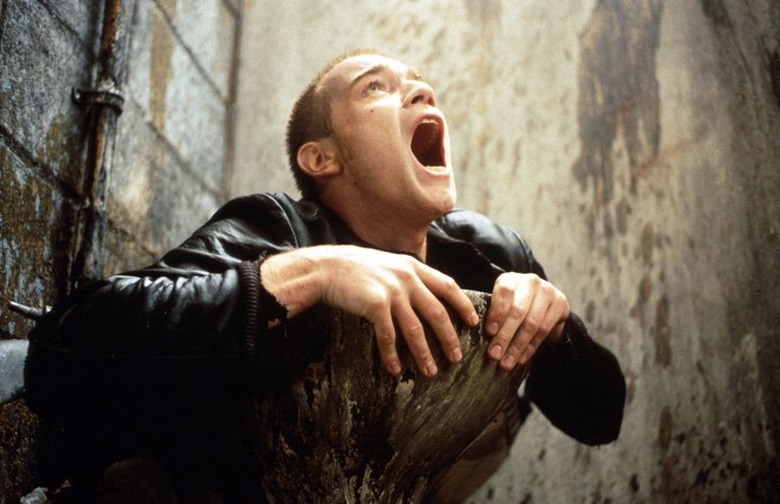 The Observer Film Quarterly polled more than 60 cinema experts – directors, screenwriters, actors, critics, and a few smart "outsiders" (novelists, musicians) to name their top 10 British films released in the last 25 years (ie since 1984). The results were combined to create a listing of the top 25 British Films Released in the last 25 years, topped with Danny Boyle's Trainspotting. Agree? Disagree? You can find that list after the jump.
I've also included a few selected personal top 10 lists from some of the participants, including director Edgar Wright (Hot Fuzz, Shaun of the Dead), screenwriter Peter Morgan (Frost/Nixon, The Queen), and actor Ben Kingsley (House of Sand and Fog, Sexy Beast, Gandhi).
The Top 25 British Films Of The Last 25 Years
1 . Trainspotting (1996)
2. Withnail & I (1987)
3. Secrets and Lies (1996)
4. Distant Voices, Still Lives (1988)
5. My Beautiful Laundrette (1985)
6. Nil By Mouth (1997)
7. Sexy Beast (2000)
8. Ratcatcher (1999)
9. Slumdog Millionaire (2008)
10. Four Weddings and a Funeral (1994)
11. Touching The Void (2003)
12. Hope and Glory (1987)
13. Control (2007)
14. Naked (1993)
15. Under The Skin (1997)
Head on over to The Guardian for films 16-25
Here are a few of the lists that were included in the poll:
Edgar Wright, director
Life is Sweet (Mike Leigh, 1991)
Sexy Beast (Jonathan Glazer, 2000)
Dead Man's Shoes (Shane Meadows, 2004)
Trainspotting (Danny Boyle, 1996)
The Filth and the Fury (Julien Temple, 2000)
Withnail and I (Bruce Robinson, 1987)
Control (Anton Corbijn, 2007)
Hunger (Steve McQueen, 2008)
The Descent (Neil Marshall, 2005)
The Low Down (Jamie Thraves, 2000)
You can read some of Wright's thoughts on his selections (and films he didn't include) on his blog.
Peter Morgan, screenwriter
Croupier (Mike Hodges, 1998)
Last Resort (Pawel Pawlikowski, 2000)
Howards End (James Ivory, 1992)
Trainspotting (Danny Boyle, 1996)
Secrets & Lies (Mike Leigh, 1996)
The English Patient (Anthony Minghella, 1996)
Dirty Pretty Things (Stephen Frears, 2002)
Man on Wire James Marsh (2008)
One Day in September (Kevin Macdonald, 1999)
Love Is The Devil (John Maybury, 1998)
Sir Ben Kingsley, actor
Shadowlands (Richard Attenborough, 1993)
The Remains of the Day (James Ivory, 1993)
Four Weddings and a Funeral (Mike Newell, 1994)
Gosford Park (Robert Altman, 2001)
Iris (Richard Eyre, 2001)
The Boy in the Striped Pyjamas (Mark Herman, 2008)
Trainspotting (Danny Boyle, 1996)
The Full Monty (Peter Cattaneo, 1997)
Somers Town (Shane Meadows, 2008)
Venus (Roger Michell, 2006)