Cool Stuff: Star Trek Limited Edition Replica Gift Set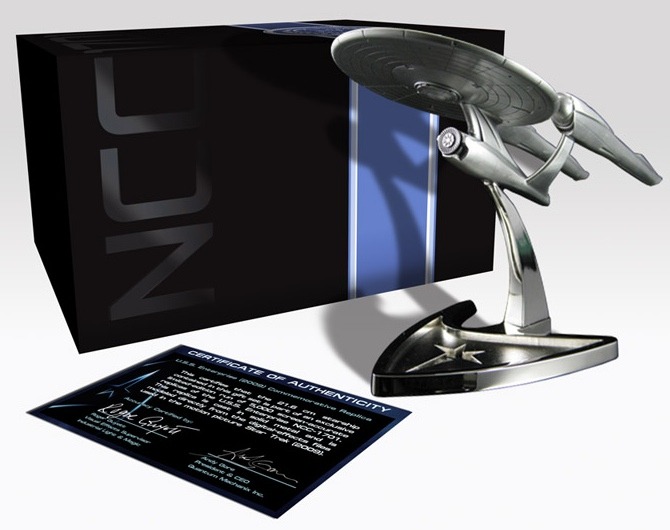 We may receive a commission on purchases made from links.
If you're reading /Film, chances are you might be buying JJ Abrams' Star Trek when it hits DVD or Blu-Ray in November. It has been revealed that Amazon will be offering an exclusive limited edition gift set for the Blu-Ray release. Only 5,000 of these have been produced, and will be sold. The set includes the three disc Special Edition Blu-Ray release, but also comes packed with an 8.5 inch replica USS Enterprise made of solid metal with chrome, textured steel and pewter finishes.
From the delta command badge base to the tip of each nacelle, not a drop of plastic was used in the construction of this substantial piece.
The replica weighs over a pound. The set will be released on November 17th 2009 and is available for preorder for $90.99 (the 3-disc +digital copy special edition is available for around $26.49 by itself). It comes with a certificate of authenticity signed by QMx and ILM's Roger Guyett, and is expected to feature some other bonus materials. More photos after the jump.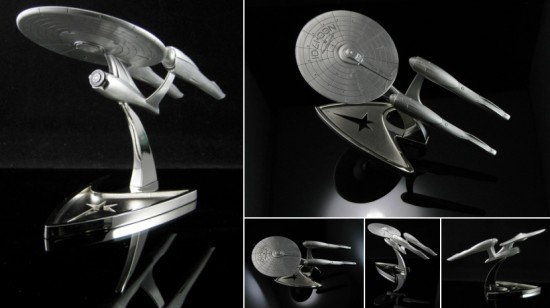 Thanks to TrekMovie for the details.
Cool Stuff is a daily feature of slashfilm.com. Know of any geekarific creations or cool products which should be featured on Cool Stuff? E-Mail us at orfilms@gmail.com.