Stuntman Spills Details On Iron Man 2 And Tintin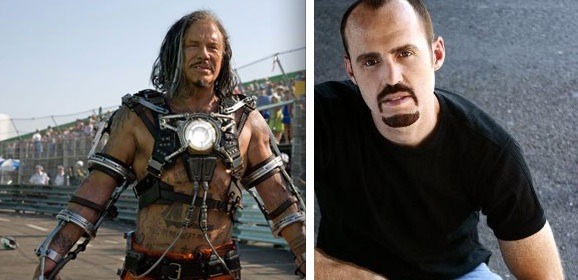 It seems that I'm doubting the Academy of Motion Picture Arts and Sciences rather a lot today (after questioning Mike Leigh's sole credit on screenplays) but I do have a real issue with their lack of recognition for stunt teams. If somebody dies making a film, chances are it was one of the stunt team or, perhaps more to the point, if there's anticipated risk of death on a film set, we're definitely talking about the stunt team. Does this alone not warrant a little gold man or two every year?
The Hamilton Behind the Camera Awards do gong-up for the stuntees, though, and the winner of their 2009 award is the incredible Garrett Warren. This 'Stunt Choreographer of the Year' has most recently worked on Iron Man 2, Tintin, Alice in Wonderland, Avatar and Mars Needs Moms and is therefore a wonderful treasure trove of mid-scale scoopage.
In a very enjoyable, and sometimes surprising, interview with Warren at Movieline you will learn all of the following, some of which the very sensitive will consider to be SPOILERS:
[Tintin] looks an awful lot like the cartoon. They really wanted to bring the cartoon to life. So if you know the cartoon, or have seen the books, that's what it looks like. It's beautiful. You would have thought to yourself that they would have tried to go for a more realistic look, but they're actually trying to preserve the look and essence of the original Tintin characters.
I don't know if I'm at liberty to say what the [Iron Man 2] whips will look like, but they're going to be these super whips that have an awful lot of power. They can cut through cars, they can do an awful lot of damage. And when the movie comes out, you'll see that he doesn't do just whip-cracks and grabbing people. He lays waste to an awful lot of vehicles and street pieces and other things. At one point, Whiplash had to get hit by a car, and Mickey did the lead up to the stunt, and I did the stunt where the car came in and hit me and took me to the fence. So yes, you'll see a combination of Mickey and myself. ...and a whole lot more beside.
This seems to be the best wobble of loose lips in showbusiness since Michelle Rodriguez dropped her triple spoiler earlier in the year. Gotta love them minor spoilers.