Cool Stuff: Olly Moss' Saul Bass-Inspired LOST Poster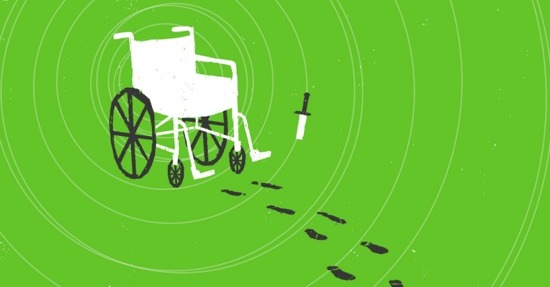 The DamonCarltonAndAPolarBear.com Lost-Inspired art viral is still going strong. A mysterious flyer told participants were told to go to Johnny Cupcakes on Newbury Street in Boston. The first eight people at the store that said "Horace sent me" were given laser engraved wooden Dharma skate decks, which look super awesome (photos after the jump). The store also had a bunch of other cool easter eggs from the show scattered around. On the back of the board was the url for a new website, ThatAndBasketWeaving.com, pointing fans to the second Lost-inspired poster in the 16-piece set.
This poster was created by 21-year old UK artist Olly Moss, who we have featured many times on the site in the past, and is probably best known for his popular t-shirt designs which have virally spread across the interwebs (the Spoilers t-shirt and a series of retro movie poster remakes that we previously featured in Cool Stuff, and Shoot The Baddies). Olly Moss's Saul Bass inspired poster for the character of Locke is titled "Locke's Secret." See the full poster and more after the jump.
I love the subtitle "Just Don't Tell Him What He Can't Do..." The 18x24 poster print is available to purchase on the site, hand-signed and numbered, limited edition of only 300.