New Photos: Sigourney In Avatar, Viking Actioner Valhalla Rising, Jennifer's Body And Whiteout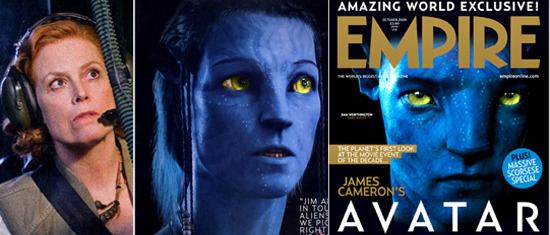 A whole ton of new photos have showed up on the web today, thanks in part to the upcoming Toronto International Film Festival. But before I get to those, perhaps the most notable stills are scanned from Empire's Avatar cover story. They show, among other things, Sigourney Weaver's avatar. We saw her in the Comic Con and Avatar Day footage, but if you missed those exhibitions, this is your first chance to see a blue alien that looks a whole lot like Dana Barrett. See more of Empire's Avatar images after the break, along with stuff from Valhalla Rising, Jennifer's Body, and Whiteout.
My favorite batch of images today come from Nicolas Winding Refn's Valhalla Rising, which casts Mads Mikklesen as what appears to be some form of Odin. My appreciation for Refn doesn't need to be restated, but I'd probably be interested in this movie even if he wasn't directing. Here's the trimmed synopsis from the TIFF website. (Beware of reading too much of the TIFF write-up, as the fest's programmers have a history of putting ideas in your head about the film.)
Valhalla Rising begins on a desolate coast where the heads of warring clans meet in battle. For years, the most fearsome and successful fighter has been an enigmatic figure known only as One Eye (Mikkelsen). Silent and lethal, One Eye has defeated everyone he's encountered, but he's treated more like an animal than a warrior. The only person he has any relationship with is the young boy who brings him food and water daily. Constantly caged and shackled, One Eye has drawn the attention of a new force now sweeping the countryside and displacing the society's leaders: Christians. Determined to claim territory for his faith, the leader of a band of Christians sets sail on an ill-fated odyssey to the Holy Land with One Eye and the young boy in tow.
Valhalla Rising hasn't yet been picked up for US distribution, but is playing both Toronto and Venice, and I'd expect to get distro word out of one of those festivals. Then we've got new images from Jennifer's Body and the Kate Beckinsale graphic novel adaptation Whiteout. Since those films are a bit better known than Valhalla Rising I'll let the images speak for themselves. Besides, those images look just like all the others released from each movie. (The Whiteout images are exclusive to Empire (via: MarketSaw), so head there to check them out in full.)