Hancock 2 Actually Happening; Writers Hired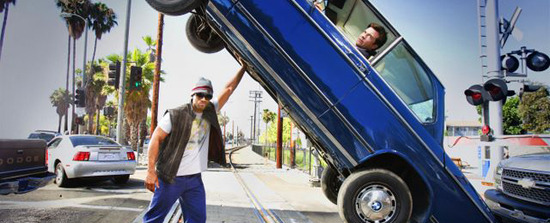 Well, it's Hollywood, so hiring writers doesn't mean by a long shot that the movie is actually going to happen. But just a week after Peter Berg was widely quoted talking about possible angles for a Hancock sequel, Columbia has hired Adam Fierro and Glen Mazzara to write Hancock 2.
They'll work with Peter Berg and Will Smith to develop ideas for the film; no plot details are specified right now. The original film was based on one of those scripts that famously kick around Hollywood for years, but there's nothing like a worldwide gross over $600m to get a sequel moving faster than the original.
Details on the possible story can be found below, along with a bunch of spoilers for the first film.
So in the third act of Hancock we learn that Will Smith's recently revamped, ex-alcoholic superhero Hancock is actually part of a race of gods that only become vulnerable when near others of their kind. Hancock thought he was the last of his kind, but discovers that his former companion/lover, played by Charlize Theron, is actually alive.
So, Berg's thoughts for a sequel? "There might be another god out there," he told Sci-Fi Wire. Oh, boy. I liked aspects of the first film well enough but the whole god backstory angle was weak and proved to be fairly silly by the end of the film. Now we could be staring down more of the same? At least Jason Bateman's publicist character could still be around, as Berg also mentioned that the character's story arc would pick up where it left off at the end of the first film.
So is this actually going to happen? "They like to fast-track it, but Will's busy, I'm pretty busy," Berg also said to Sci-Fi Wire. "We're excited to do one, but we want the script to be right and the movie to be right. We don't feel a burning imperative to go right back into it."
Incidentally, if you like the idea of the alcoholic superhero down on his luck, check out Big Man Japan (aka Dainipponjin) which has a lot of the same beats as Hancock. It's not a great movie, but has what may be one of the most insane last scenes I've caught in a long time.
source: THR