Cool Stuff: Pixar's Up Luxo Jr. Limited Edition Collector's Set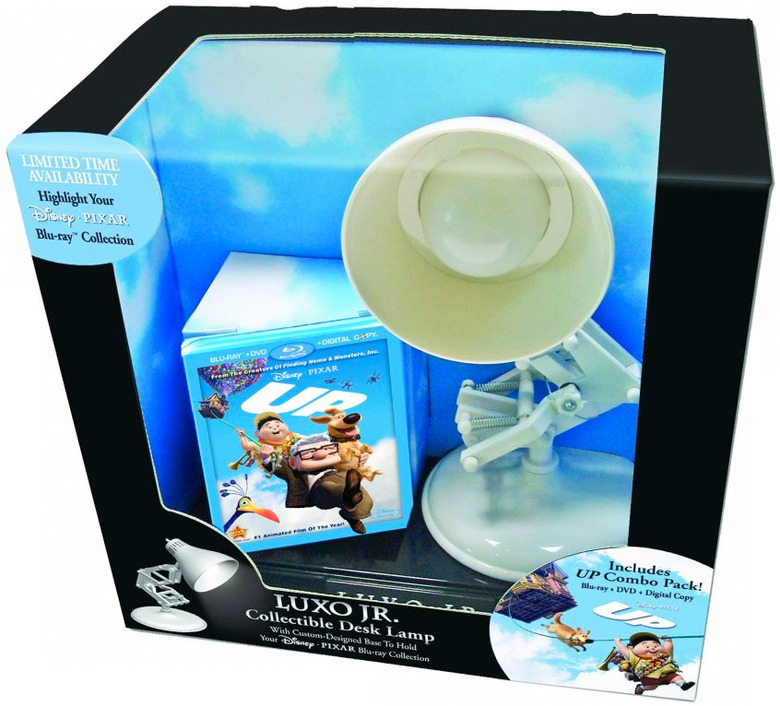 We may receive a commission on purchases made from links.
A couple weeks ago we told you the details of Disney's DVD/Blu-ray release of Pixar's Up. But we didn't know at the time that the film will also be released in an awesome Limited Edition Collector's Set which will surely excite Pixar fanatics.
Inspired by the Pixar's bouncy little lamp which appears in the animation studio's logo (and originates from the 1986 short flm), this Collectible Luxo Jr. Desk Lamp Premium Combo Pack comes with a custom-crafted lamp and base which was specially designed to "hold and highlight your Disney Pixar Blu-ray collection." This set  comes packaged with a Blu-ray + DVD + Digital Copy of Up. No details on if the Luxo Jr lamp moves around, but I would expect it has some kind of animatronic movement. It has been reported that the lamp actually turns on.
The MSRP on the limited edition set it a little expensive – $199.99, but discount retailers will have it much cheaper. For example, Amazon has it for 30% off on preorder for $139.99. I think it would be cool to house all my Pixar DVD and Blu-ray's next to Luxo Jr, but whats the chances that the base compartment that holds the movies can expand for future releases? Not likely. I guess you could look at as a collector's set for the company's first 10 movies.
Cool Stuff is a daily feature of slashfilm.com. Know of any geekarific creations or cool products which should be featured on Cool Stuff? E-Mail us at orfilms@gmail.com.