See A Clip From Lo-Fi Woody Harrelson Superhero Movie Defendor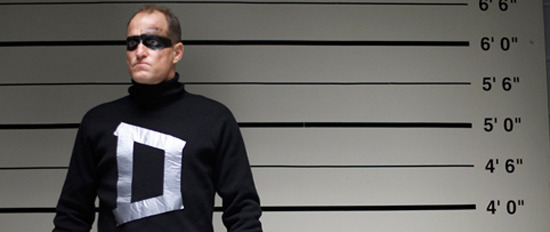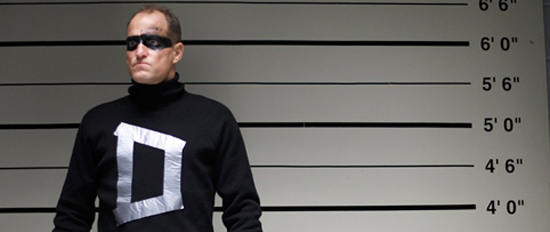 Twitch has a short clip from the odd-looking superhero movie Defendor, starring Woody Harrelson and Kat Dennings. We've already run some photos, which got me interested in the film immediately, and this clip looks great. Check it out after the break.
The film, which will premiere at the Toronto International Film Festival, is written and directed by Peter Stebbings and also features Sandra Oh and one of my favorite actors, Elias Koteas. Here's the official synopsis:
Reality intersects with delusion in the mind of Arthur Poppington (Woody Harrelson), a regular man who adopts a superhero persona known as Defendor, and combs the city streets at night in search of his arch-enemy, Captain Industry. In his attempts to combat crime and bring down Captain Industry, a drug and weapons dealer who he mistakenly blames for the death of his mother, Defendor ends up befriending a young prostitute, Katerina Debrofkowitz (Kat Dennings).
In the few online discussions of the film, I haven't yet seen anyone mention Bernie Mireault. When I saw the first images from Defendor, the first thing I thought of was Mierault's occasional comic book series The Jam. Timothy Callahan at CBR describes it:
The Jam is...the story of an average guy with a homemade costume (well, Gordon Kirby's sister made it in her home, using a jogging suit as the foundation) and the two other loves of his life: his girlfriend Janet, and his dog Harvey...he has to scrape together money for beer and pizza, he patrols the rooftops awkwardly, he fights crazed jihadists mostly by avoiding them — and its emphasis on characterization over spectacle predicts the path many superhero comics would follow in the years since.
For a long time, I've had a half-finished feature of weird, fun comics forgotten by the mainstream that I'd love to see adapted to film. The Jam is high on the list. I honestly don't know if it was any influence on Defendor, but given that it's a small Canadian comic and a small Canadian film, I wouldn't be too surprised. (This clip suggests that, unlike The Jam, Defendor doesn't do much avoiding of conflict.) Incidentally, I learned about The Jam after loving the magnificent work Mireault did on Matt Wagner's Grendel; The Devil Inside trade is very much a must-read.
Regardless, I like the stills we've seen and I really like this little clip. Check it out below, and keep an eye open for Defendor; you'll probably have to go out of your way to see it. But I'm beginning to suspect the effort will pay off.
if(document.getElementById("obj1f866af11db04864bca16236377b518f")) document.getElementById("obj1f866af11db04864bca16236377b518f").setAttribute("flashvars", "file=bcfba88e9e034dddbdfd331a2e3e4795&permalink="+encodeURIComponent(location.href)); if(document.getElementById("emb1f866af11db04864bca16236377b518f")) document.getElementById("emb1f866af11db04864bca16236377b518f").setAttribute("flashvars", "file=bcfba88e9e034dddbdfd331a2e3e4795&permalink="+encodeURIComponent(location.href));
// –>