TV News: Deadwood Star Joins Lost, 24 Plans For The End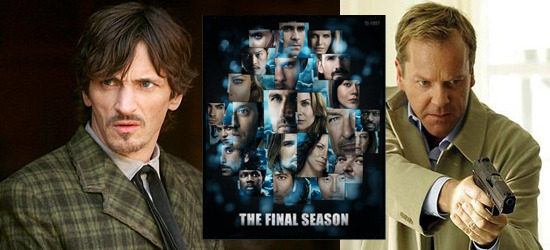 Deadwood alum John Hawkes has joined the cast of the sixth and final season of LOST, and producers of Fox's 24 are planning for the possible end of the series. Details after the jump.
John Hawkes has been cast as a new reoccurring character named Lennon on Lost. The character is described in the casting breakdown as "Scruffy, edgy, charismatic, and slightly stir-crazy, Lennon can be deferential when it's called for. He's the spokesperson/translator for the president of a foreign corporation. He's a wily negotiator, and far more powerful than his lowly position would seem to indicate." One would assume that Lennon works for Widmore or the Hanso Foundation, although that isn't clearly stated. Any thoughts?  Hawkes played entrepreneur and politician Sol Star on Deadwood, Dustin Powers on Eastbound & Down, and his feature credits include Me and You and Everyone We Know, Miami Vice, American Gangster and Miracle at St. Anna.
Will Day 8 be Jack Bauer's last? 24 Producers are taking precautions in case the show is canceled by studio execs. The answer? Writing a number of alternative endings for the series. Producer Evan Katz says, "We're flexible. We have a scenario that would work well if the show ends. But we also have scenarios where it could go on." The new season is currently in production and will begin airing on television beginning in January.
source: THR