It Might Get Loud Filmmaker Developing Jimi Hendrix Biopic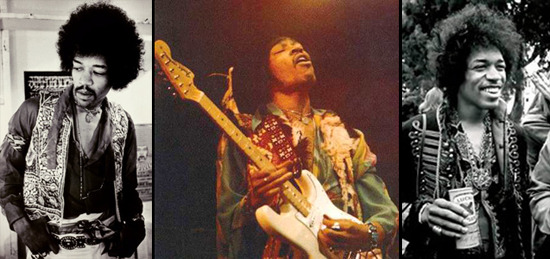 Whenever I hear of someone wanting to make a Jimi Hendrix biopic, I think of comments from Dune about men drinking drinking the Water of Life. "They tried and failed?" "They tried and died." No one has kicked it trying to put Hendrix on film, but no attempt has even come close to getting it right, either. Now, according to Variety, Thomas Tull of Legendary Pictures, the man who came up with and produced the guitar god documentary It Might Get Loud, is trying his own Hendrix film. Does making one guitar documentary make this film any more likely to succeed? Probably not.
The Hendrix estate is supposedly pretty damn protective of its famous son, which begs the question of how the Hendrix likeness ended up in Guitar Hero and how the pretty awful TV movie Hendrix got made, but still. Andre Benjamin wanted to make a film; so did Lenny Kravitz. The idea this time is to have screenwriter Max Borenstein come up with a script and then take it to the family, hoping they'll bite when it's all laid out ready to go. Good luck, folks.
The problem, simply, with putting Hendrix on film is that there are very few performers as physically idiosyncratic as the guitar legend. Somewhere between his fingers and the guitar strings a remarkable alchemy took place. As John Phillips says in Jimi Plays Monterey, "the incredible thing was, you could watch him like a hawk, but you could not figure out how he did it." Check out Criterion's great DVD of the Monterey Pop Festival (some of which is reproduced below) and try to imagine anyone convincingly replicating that on film. (Also, take a look at the Monterey footage and tell me Mitch Mitchell wasn't one of the craziest, most brash and awesome rock drummers to hit the skins.)
The first clip below is the real thing, from Jimi Plays Monterey. The second shows The Wire's Wood Harris trying to make it work on stage in the 2000 TV movie Hendrix. Harris is a good actor, but this clip of him recreating the Monterey performance is almost painful to watch.