2009 World Soundtrack Awards Nominations Announced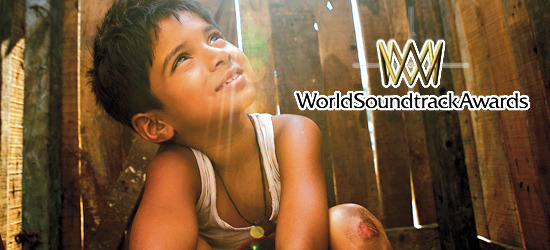 The World Soundtrack Academy have announced the list of nominees for the three principal categories in the World Soundtrack Awards: Film Composer of the Year, Best Original Score of the Year and Best Original Song Written Directly for a Film. Slumdog Millionaire leads the nominations. Check out the full list of nominations after the jump.
FILM COMPOSER OF THE YEAR
CARTER BURWELL (Burn After Reading, Twilight)
ALEXANDRE DESPLAT (The Curious Case of Benjamin Button, Coco Avant Chanel, Largo Winch, Cheri)
DANNY ELFMAN (Milk, Taking Woodstock, Notorious)
MICHAEL GIACCHINO (Star Trek, Up, Land of the Lost)
HANS ZIMMER (Frost/Nixon, Angels & Demons, The Dark Knight)
BEST ORIGINAL SCORE OF THE YEAR
BURN AFTER READING by Carter Burwell
THE CURIOUS CASE OF BENJAMIN BUTTON by Alexandre Desplat
FROST/NIXON by Hans Zimmer
THE INTERNATIONAL by Reinhold Heil, Tom Tykwer, Johnny Klimek
SLUMDOG MILLIONAIRE by A.R. Rahman
BEST ORIGINAL SONG WRITTEN DIRECTLY FOR A FILM
"GRAN TORINO" from 'Gran Torino'
Music & Lyrics by Jamie Cullum, Clint Eastwood, Kyle Eastwood and Michael Stevens
Performed by Jamie Cullum & Don Runner
"JAI HO" from 'Slumdog Millionaire'
Music by : A.R. Rahman
Lyrics by Gulzar and Tanvi Shah
Performed by A.R. Rahman, Sukhvinder Singh, Tanvi Shah, Mahalaksmi Iyver, Vijay Prakash
Published by KM Musiq ltd
"O SAYA" from Slumdog Millionaire'
Music & Lyrics by A.R. Rahman and Mathangi Arulpragasam
Performed by M.I.A. & A.R. Rahman
Published by KM Musiq ltd
"RUN & HIDE" from 'Je l'aimais'
Music & lyrics by Anna Chalon
Performed by Anna chalon
o "THE WRESTLER" from 'The Wrestler'
Music & lyrics by Bruce Springsteen
Performed by Bruce Springsteen
Published by Bruce Springsteen
The names of the winners will be announced on Saturday, October 17th at the closing event of the Ghent International Film Festival.