This Week In DVD & Blu-Ray: The Last House On The Left, Dexter, The Simpsons, And More
We may receive a commission on purchases made from links.
This Week in DVD & Blu-ray is a column that compiles all the latest info regarding new DVD and Blu-ray releases, sales, and exclusive deals from stores including Target, Best Buy and Fry's.
Please don't take the commentary on the movies and TV shows too seriously, as they're meant not to be reviews but rather previews that include the general thoughts and ramblings of a twice-committed DVD addict. The categories represent solely the author's intentions towards the films at hand, and are in no way meant to be a reflection on what he thinks other people should rent or buy. So if he ends up putting a movie you like in the "Skip it" section without having seen it, please keep in mind that the time you could spend leaving a spiteful but ultimately futile comment could instead be used for more pleasant things in life. Like buying DVDs.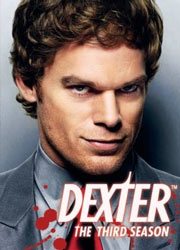 DEXTER (SEASON 3)
There are only so many worthwhile storylines you can wring out of a premise before the concept starts growing stale, and it's because of this that I approached the airing of Dexter's third season with severe trepidation. The knockout first two seasons had already tackled some pretty hefty topics, both of which tied in significantly with Dexter's past and current struggles. What else was there left to explore in the life of Dexter...? A lot, apparently. Season 3 of Dexter may take a little while to get going, but it does so only to make the payoff that much more satisfying. The build-up of the relationship between Dexter and Miguel Prado (played by Jimmy Smits) introduces a fascinating dynamic to the show, and seeing how it factors into Dexter's slow but progressive emotional transformation is as engaging as ever. Unlike some people, I probably wouldn't call Dexter one of the best shows on television, but it's solid trashy fun that has a brain to boot. My only real frustration with it stems from Deb, Dexter's unbelievably annoying sister. Hopefully, the fourth season of the show will include her dying in a horrifically graphic and painful fashion. Fingers crossed!
Blu-ray? Yes.Notable Extras: DVD & Blu-ray – Interviews and book excerpts from "Dexter by Design".
BEST DVD PRICE
Target
Best Buy
Fry's
$26.99
$24.99
$18.29
Amazon – $20.49
BEST BLU-RAY PRICE
Target
Best Buy
Fry's
$36.99
$39.99
$36.77
Amazon – $36.99
EXCLUSIVE DEAL:What? Exclusive 60-minute cast Q&A panel from Comic-Con.Where? Target.EXCLUSIVE DEAL:What? Exclusive packaging.Where? Best Buy.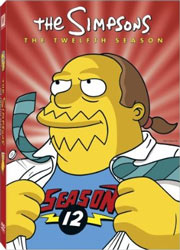 THE SIMPSONS (SEASON 12)
Many diehard Simpsons fans would say the show's substantial drop in quality occurred around Season 9 or 10. I'd be hard-pressed to disagree with that. Prior to that point, the show had always maintained this great balance of clever, heartfelt storylines with gut-busting gags. Later on though, the writers seemed to lose sight of the show's emotional core and began focusing their energy more on how to fit as many hilarious gags on the screen at once. And yet, despite this, I still plan on buying the Season 12 DVD set. Why? Because damn it all, the show is still really funny. Truth be told, I can't remember Season 12 well enough to say whether or not this is about the point where even the show's jokes stopped hitting their marks, but having bought every season up to 11, I can say with confidence that each has put me into a state of hysterics. So until I reach a point where they eventually fail to accomplish that task, I plan to keep on buying them.
Blu-ray? No.Notable Extras: Commentaries featuring Executives Producers, Writers, Directors, Cast and many more, Illustrated Commentary ("Lisa the Tree Hugger", "HOMR", "I'm Goin' to Praiseland"), deleted scenes, Animation Showcases ("Treehouse of Horror XI", "Day of the Jackanapes"), a Comic Book Guy: Best. Moments. Ever featurette, a Global Fanfest feature, a Sketch Gallery, and commercials.
BEST DVD PRICE
Target
Best Buy
Fry's
$29.99
$28.99
$28.77
Amazon – $31.99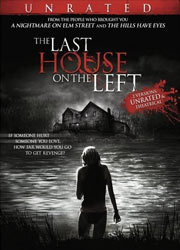 THE LAST HOUSE ON THE LEFT
While everyone else was busy crying foul at Wes Craven's cult classic being remade, I couldn't help but be intrigued by the possibilities. As far as I'm concerned, that film is a perfect representation of what you should look for when attempting to justify a remake. It had a concept that was loaded with potential, but due to the low budget, questionable acting, and a variety of just plain bizarre directorial decisions, the resulting product was kind of a disaster. This remake marked an opportunity for the story to be done again, but right this time. And although 59% of critics would disagree with what I'm about to say (and 65% would disagree with what I've already said), I think that they just about succeeded, crafting a exploitative horror film that's as unpleasant and tense as it is satisfying. While many have been eager to dismiss the deplorable content found in much of revenge cinema, there's something to be said for the way the genre plays on the emotional impulses of its audiences. Some find themselves disgusted by it; others find themselves celebrating the ensuing carnage. In a way, The Last House on the Left is a perfect companion piece to its predecessor. Unlike the characters in that film, the family here is driven to committing such grisly deeds not by vengeance but by a desperate desire for survival. We feel they are justified in their actions because they're doing what they can to stay alive, but at the same time, we take pleasure in watching these horrible individuals get what's coming to them. The fact that they're acting in self defense simply makes enjoying what happens to the bad guys a whole lot easier. With the film's final moments though, we witness a display of exploitative insanity that significantly alters our acceptance of what the film's protagonists have done. In many ways, the film's characters have become us, indulging in the exact same psychotic tendencies we've been quietly embracing all along. So if after the film you find yourself feeling a little dirty... Don't worry. That just means you're human.
Blu-ray? Yes.Notable Extras: DVD & Blu-ray – Includes both rated (1 Hour 50 Minutes) and unrated (1 Hour 54 Minutes) cuts of the film, as well as deleted scenes, and A Look Inside featurette.
BEST DVD PRICE
Target
Best Buy
Fry's
$19.99
$16.99
$14.77
Amazon – $19.99
BEST BLU-RAY PRICE
Target
Best Buy
Fry's
$26.99
$25.99
$25.77
Amazon – $26.99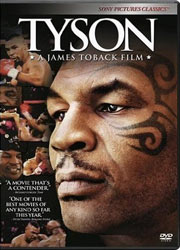 TYSON
Having minimal interest in both boxing and Mike Tyson, I assumed that there was no real reason for me to waste any time on this documentary. The critical response though, has convinced me otherwise. From the sounds of it, this film would be interesting to see purely from a psychological perspective. It's not merely an account of Mike Tyson's life. The film provides a platform for Mike Tyson himself to delve into his storied history, which many reviews have pointed out provides a surprising compare-and-contrast to how we the tabloid-reading-audience perceived those events. I can't say I've ever been compelled to understand what goes on in the mind of Mike Tyson, but after reading some of those reviews, this documentary certainly makes me want to.
Blu-ray? Yes.Notable Extras: DVD & Blu-ray – A commentary with Director James Toback, and 3 featurettes ("A Day with James Toback", "Iron Mike: Toback talks Tyson", "The Big Picture Show").
BEST DVD PRICE
Target
Best Buy
Fry's
N/A
$19.99
$19.99
Amazon – $19.99
BEST BLU-RAY PRICE
Target
Best Buy
Fry's
N/A
$29.99
$27.99
Amazon – $26.99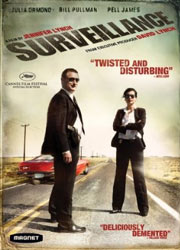 SURVEILLANCE
It's one thing to watch a David Lynch film... imagine being raised by him. What effect would that have on your childhood? What kind of person would you grow into? ...What kind of movies would you make? In 1993, Jennifer Chambers Lynch answered that question when she wrote & directed Boxing Helena, a film that explored the twisted love story between a surgeon and the woman whose limbs he amputates while holding captive. Trust me, it's every bit as absurd as it sounds. And yet despite that staggering failure of cinema, I've always been interested to see what other crazy concoctions she'd come up with. A whopping 15 years later, her sophomore effort is finally here. The reviews are incredibly divisive about the film's quality, but it at least sounds like less of a colossal failure than Boxing Helena. It also has a rather intriguing premise, following an FBI agent who's trying to track down a serial killer with the help of three (supposed) near-victims – all of whom have wildly contradictory stories to tell. Between that and the trailer, consider me sold.
Blu-ray? Yes.Notable Extras: DVD & Blu-ray – A commentary with Jennifer Lynch, Mac Miller and Charlie Newmark, Surveillance: The Watched are Watching, HDNet: A Look at Surveillance, Deleted Scenes, and an Alternate Ending.
BEST DVD PRICE
Target
Best Buy
Fry's
N/A
$19.99
$19.99
Amazon – $19.99
BEST BLU-RAY PRICE
Target
Best Buy
Fry's
N/A
$29.99
$26.99
Amazon – $23.99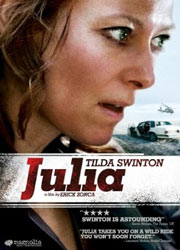 JULIA
Tilda Swinton is an amazing actress, but she's rarely been given the opportunity to headline any movies. Julia, an indie thriller that's received quite a bit of positive word-of-mouth but only received a very limited theatrical run, marks a step in the right direction to hopefully fix this gross error in fortune. The film's IMDB plot synopsis is brief and simplistic, yet immediately compelling: "A woman tries to extort money, using a young boy as bait." If you need more convincing beyond that, you can also check out the film's trailer.
Blu-ray? No.Notable Extras: An audio commentary, a behind the scenes featurette, and deleted scenes.
BEST DVD PRICE
Target
Best Buy
Fry's
N/A
$19.99
N/A
Amazon – $19.99
Other noteworthy DVD (and Blu-ray) releases this week...
Sons of Anarchy (Season 1) [DVD / Blu-ray] – The Last Starfighter (25th Anniversary Edition) [DVD / Blu-ray] – Hannah Montana: The Movie [DVD / Blu-ray] – The Garden – The Beast (Season 1) – Everybody Hates Chris (The Final Season) – Greek (Chapter Three)
Other noteworthy Blu-ray-specific releases this week...Kagemusha (Criterion Collection) – Playtime (Criterion Collection) – Go

NOTE: Some deals may be in-store only.

$12.99 – Arrested Development (Seasons 1 – 3), How I Met Your Mother (Season 1 or 2), The Simpsons (Season 5), and more...$18.99 – Eastbound & Down (Season 1), Entourage (Seasons 1 – 5), 24 (Seasons 1 – 6), and more...

$11.99 – The Simpsons (Seasons 1 – 5)$19.99 – The Simpsons (Seasons 6 – 11)