TV News: Patton Oswalt Joins Caprica, NBC Picks Up Midnight Mass, HBO Developing Comedy About Rolling Stones Manager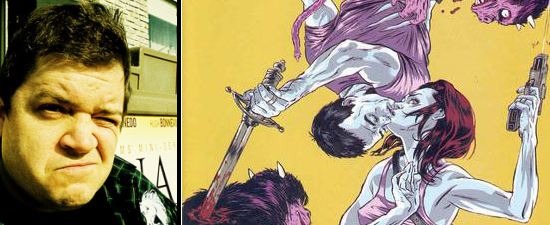 I never thought we'd see the likes of Patton Oswalt on Caprica, but now that we've learned that he's landed a recurring role I can't say I'm too surprised. Oswalt has never been shy about his geekiness—a tendency which was evident in Ratatouille and his stand up routine (check out his great Wired interview on Geeks vs. Nerds)—so it's no real shock that he's managed to get himself into one of the best sci-fi universes out there. He was also on Dollhouse last season, so this won't be his first sci-fi endeavor either.
In other TV news, NBC has grabbed a live-action adaptation of the comic series Midnight, Mass. Gretchen Berg and Aaron Harberts (Pushing Daisies, Wonderfalls) are on board to write the series, which is about a husband and wife team that solves supernatural mysteries all over the world. I haven't read the comic, but it sounds like a property that could lead to a fun TV show like Fox's upcoming Human Target (also based on a comic). The project has been hotly pursued by other producers at WBTV—which makes me think there's a lot of potential with this series.
We've also learned that HBO is producing a comedy series based on the memoirs of former Rolling Stones producer Andrew Loog Oldham. Wesley Strick, a screenwriter famous for Cape Fear, Arachnophobia, and the upcoming A Nightmare on Elm Street remake, is set to write the series loosely following the first two books of Oldham's biography. The series is described as "a fictional account of a young man living the high life with artists and hipsters in London's vibrant Soho scene in the early 1960s."