Lost Viral: Ultimate Lost Event Sunday Night In LA?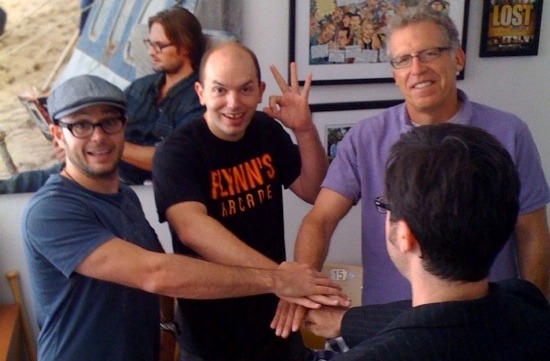 Previously on the Lost Viral: Human Giant comedian Paul Scheer presented Damon Lindelof and Carlton Cuse with a velvet painting and announcing his new website DamonCarltonAndAPolarBear.com., where he planned to devote his life to making Lost-inspired paintings. Soon after we recieved a FEDEX'd letter from Ronie Midfew Arts, declaring that "Mr. Scheer is creating this LOST-inspired artwork without authorization." A couple people in the comments figured out that Ronie Midfew Arts is actually an anagram for Widmore Fine Arts. Yes, as in Charles Widmore. Paul broke into the Lost production offices and discovered the title of the first episode of season six.
After harassing phone calls and legal letters, last week Paul was invited by Ronie Midfew Arts to have a meeting at their Beverly Hills art gallery. And it turns out that Ronie Midfew isn't the evil villain that we had first assumed (or is he?). Paul says that "Ronnie" was very persuasive and convinced Paul to join forces for "The Ultimate Lost Event". More information after the jump.
Paul writes:
"I can't get into the full details of our agreement at this time. However I can say that I agreed to TEMPORARILY stop production and promotion of my LOST inspired velvet artistry for an undisclosed reason in lieu of a new opportunity which I ultimately think will blow your mind. Wow, that was a mouthful.This new endeavor is an idea I've had for quite some time but never had the resources to produce myself but my partnership with this group is finally going to make it possible. Case in point, after I pitched my idea to Ronie we were able to take the concept to Damon and Carlton at their offices in Los Angeles and include them in on it as well. Which means this project is going to be done with the full support of the LOST team. I used to think Ronie Midfew Arts was the devil but if the devil loves Lost as much as I do how bad of a guy can he be? If we are able to pull off this idea, which we will, this will be much better than anything that I could put on velvet. This is truly for all of us fans of LOST. Unfortunately to support this endeavor fully DAMONCARLTONANDAPOLARBEAR will change it's focus and direction and this might be the last time your hear from me for quite some time. But know that I'll be behind the scenes working hard to pull this off."
Paul also posted the above photo showing the pact between him, the Ronnie Midfew suit, and Damon Lindelof and Carlton Cuse (which once again confirms that this is some official shot). And according to Paul, apparently "the hunt will begin" tonight at midnight pst. What could this all be about?
Update: At midnight, the website DamonCarltonAndAPolarBear.com transformed into something new.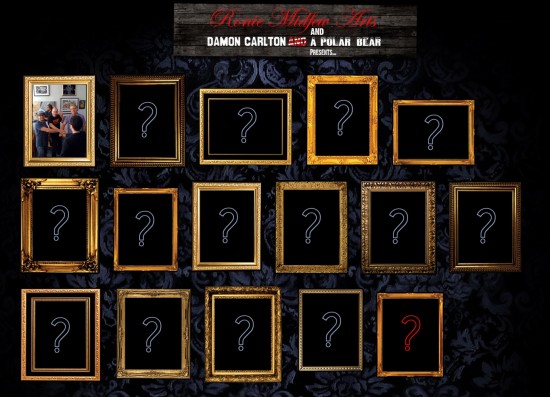 16 frames, one with a photo of Paul, Damon, Carton, and Ronie, 14 with ominus blue question marks, and the 16th with an erie red question mark. The first frame is clickable and contains the following message:
"So, these are "hints." Some will lead to physical places, some just take you to another website. But the end result, a.k.a. the coolest part of the fun, can be achieved just by s taying in your house. No need to stand up, get dressed and start flailing your arms to your waiting car, because everyone will have a chance to get to the end result, as long a s you're online and stay tuned to this website. We'll give you everything you need to know... and soon."
Under neath that is a digital flyer for a Banana Split party sponsored by the Dharma Initiative, which takes place on Sunday August 16th at Bardot in Los Angeles.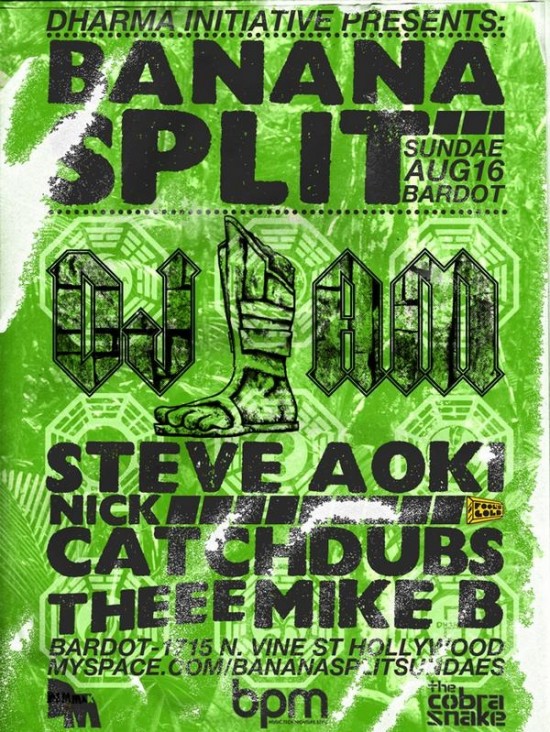 The Myspace page listed gives us more information about the event:
GUEST LIST ONLY! FREE When You Send Your Names To PARTYLINE@DIMMAK.COM (Subject Header: Banana Split Sundaes) 21+ || 10- 2am 1735 N. VINE ST.HOLLYWOOD, CA
No Bottle Service. No Dress Code. No other such wackness.
I have no idea what is going to happen at this event but I've been told you don't want to miss it.