The White Ribbon International Movie Trailer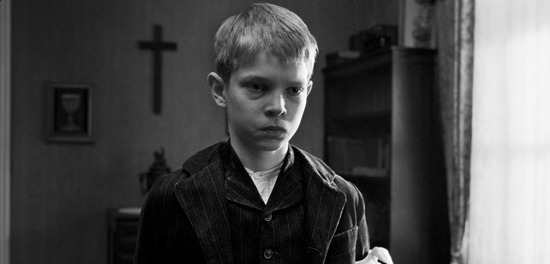 I have a deep admiration for the films of Michael Haneke, but was still slightly surprised when his new film The White Ribbon won the top prize at Cannes this year. (Even with Isabelle Huppert, who'd previously found Cannes success via Haneke, as jury prez.) We've seen some clips from the film, and now that it is about to open in Germany, there's a German-language trailer. You won't get a lot of plot, but Christian Berger's gorgeous cinematography is on full display.
Also in full view is the steadily encroaching tension that is characteristic of Haneke's films. Some at Cannes called the film too austere and grey, but I'm intrigued by this approach, especially as it seems to shy away from the flat-out assaults that we've seen in some of his films. Even without any English dialogue you can get the sense here that something might be very wrong, but not necessarily in the bleakly savage sense of Funny Games. And, in fact, things are weird, as the synopsis suggests.
A village in Protestant northern Germany. 1913-1914. On the eve of World War I. The story of the children and teenagers of a choir run by the village schoolteacher, and their families: the baron, the steward, the pastor, the doctor, the midwife, the tenant farmers. Strange accidents occur and gradually take on the character of a punishment ritual. Who is behind it all?
The White Ribbon will be at the New York Film Festival in September, but hasn't yet been announced for the Toronto International Film Festival, also in Sept. (Curious, that.) It will hit the States in limited release starting on Christmas Day, courtesy of Sony Pictures Classics. Maybe not exactly the Xmas celebration many people hope for, but I'll certainly consider it a gift.
[via Twitch, as the video player shows]
if(document.getElementById("obj1f866af11db04864bca16236377b518f")) document.getElementById("obj1f866af11db04864bca16236377b518f").setAttribute("flashvars", "file=96c74a2e3ae441d7adc916a1d5dbae08&permalink="+encodeURIComponent(location.href)); if(document.getElementById("emb1f866af11db04864bca16236377b518f")) document.getElementById("emb1f866af11db04864bca16236377b518f").setAttribute("flashvars", "file=96c74a2e3ae441d7adc916a1d5dbae08&permalink="+encodeURIComponent(location.href));
// –>