Jon Heder To Star In Buddy Holly Is Alive And Well On Ganymede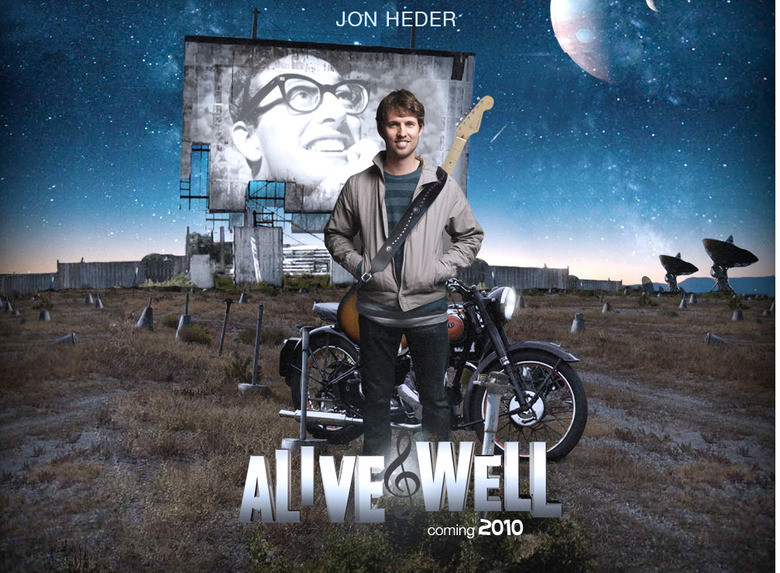 Jon Heder, best known for playing the title role in Napoleon Dynamite, has signed on to star in an adaptation of Bradley Denton's comic sci-fi novel Buddy Holly Is Alive and Well on Ganymede. Robert Rugan wrote the screenplay adaptation and will direct. Heder will shoot the film when he has time off from his untitled Comedy Central sitcom.
The official plot synopsis follows
"February 3rd, 1959 was the "day the music died." It was also marked the day when our hero, Oliver Vale, was conceived in the back seat of a car. And from that moment forward, he was raised to fervently believe in personal freedom, UFOs, higher consciousness and, of course, the power of rock n rock. Exactly thirty years from his conception, Oliver turns on the TV only to find Buddy Holly on every channel, broadcasting nonstop from Ganymede, a moon of Jupiter. Buddy's message to the world? Oliver Vale holds the key to Buddy Holly's "re-birth" and should be contacted for details. Now in a slight panic, Oliver makes the decision to race towards Lubbock, the birthplace of Buddy Holly, to search for some clues into why this is happening to him. And with Oliver on the run, the film becomes an action packed romp through the desert – with Oliver trying to keep ahead of the pack and away from his therapist, a killer cyborg dog, a FCC assassin, a couple of aliens, and a mob of couch potatoes who want their TV back... NOW."
Sounds like a really crazy story. You can read parts 1, 2, 3, and 4 of the Campbell Award-winning novel online for free. The character from the film, Oliver Vale, already has a twitter account, where he has been tweeting from the year 1988. Talk about advance marketing.
Rugan's first indie feature Alice's Misadventures in Wonderland won the Grand Jury Award for Best Feature Film at the Sidewalk Moving Picture Festival. He has done commercial work for Budweiser, Diet Pepsi, Philips, Verizon Wireless, MTV, IFC, and HBO. In his director's statement, Rugan notes that the film "is a story that breaks down the walls of convention encompassing humor, a wild imagination and the heartfelt message that we, as human beings, are connected by fate, but that we motivate our own destiny and that life is always worth living."
source: Variety