Big Directors Small Films: The Coen Brothers Short Film 'World Cinema'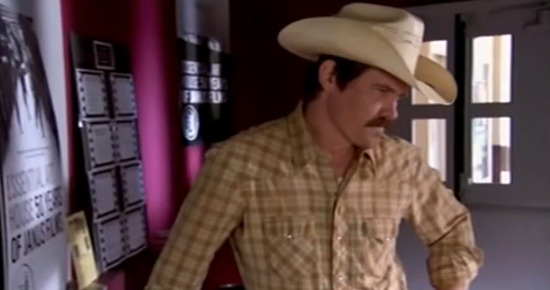 In 2007 an omnibus film called Chacun son cinema (To Each His Own Cinema) played at festivals. Made to celebrate the 60th anniversary of the Cannes Film Festival, the collection featured short films about cinema made by an amazing variety of directors: Takeshi Kitano, Gus Van Sant, Zhang Yimou, Jane Campion, Atom Egoyan and many more. Among those 'many more' were Joel and Ethan Coen, who enlisted their recent star Josh Brolin in a three-minute movie called World Cinema. Problem was, World Cinema didn't show up on either of the DVD releases of Chacun son cinema, making it very difficult to see. (I was lucky enough to see it at Toronto that year.) But now it has found its way onto YouTube, and you should watch it after the break, right now, before it goes away again.
World Cinema features Brolin as a rancher named Dan (who looks a lot like his No Country For Old Men character Llewelyn Moss) who wanders into a repertory theatre showing Renoir's The Rules of the Game and Nuri Bilge Ceylon's 2006 film Climates. He can't decide which one to see, and the helpful ticket salesman talks him through each film. Dan finally makes his choice (after a weird bit of interaction) and emerges from the theatre...
This is a tight little story, but it's got everything you need, and it fulfills the whole Chacun son cinema mandate of celebrating movies perfectly well. Not all of the films in the collection were so successful (like David Lynch's really bad one, also on YouTube) but some were quite good. I love the Takeshi Kitano, the Zhang Yimou and also Tsai Ming-liang's ode to bygone movie palaces. The omnibus is also notable for having a short film, made by David Cronenberg, with a creepily memorable title: At the Suicide of the Last Jew in the World in the Last Cinema in the World.
[via The Auteurs Twitter feed]