Pitch Purchases: Vehicles For Jonah Hill And Harold & Kumar Creators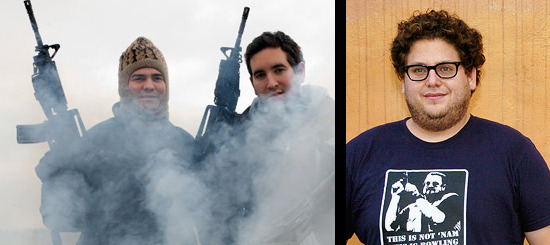 Couple of short stories for you today about new films that are a ways down the road. First up, according to Variety, Universal has purchased a pitch by Andrew Jay Cohen and Brendan O'Brien called The Best Thing About Pam Rooney. It's a "high-concept" romantic comedy, and it will be developed as a starring project for Jonah Hill. Cohen and O'Brien are vets of Judd Apatow's stable; they'll exec produce. Next up: something new for the two Harold & Kumar creators.
THR reports that writer Josh Friedlander has sold One Night Stan to Lionsgate. The original comedy script will go into the hands of Harold & Kumar Go to White Castle writers Jon Hurwitz and Hayden Schlossberg, who will take on directing duties for the comedy. (They also directed the second Harold & Kumar movie.)One Night Stan is also high-concept stuff, as a guy (Stan), about to be married, discovers that his fiancée has been with more sexual partners than he has. For some reason, she allows him one night to catch up to her tally (I hope there's a double-digit discrepancy) but, predictably, his attempt at creating a smorgasbord of sex doesn't really work out. There are obvious reasons for Lionsgate to jump on this: after The Hangover, anything that smells of affordable R-rated comedy is going to be appetizing, and Hurwitz and Schlossberg have proven themselves with turning raunchy stuff into a minor moneymaking machine.
THR does note that comedy isn't really Lionsgate's thing (Tyler Perry movies are the only real success the studio's had with comedy) but this should be an easy layup. Definitely not a blockbuster, unless some alchemically perfect cast is assembled, but even so, sounds like easy money. And since I enjoyed the second H&K movie a lot more than I ever would have expected, I'll probably get suckered into this one, too.