Pee-Wee Herman Returns To Hollywood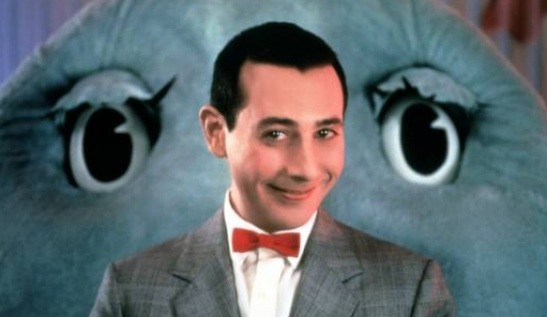 Paul Reubens has been going around for the past couple years saying that he was developing two new Pee-Wee Herman feature films, one for adults, one for children. Neither of which seem to have advanced past the "is there anyone crazy enough to fund either of these films?" phase, but that doesn't mean that we haven't heard the last of Pee-Wee. Reubens has announced that he will be reprising the character live onstage in Hollywood, will have a limited engagement beginning November 8th, 2009, at The Music Box @ Fonda. Details after the jump.
"It's time," said Reubens in a press release. "My Pee-wee suit and red bow tie are at the ready – and this is proof that white shoes are cool past Labor Day."
Some people may remember that before Pee-Wee Herman began his kids television show Pee-Wee's Playhouse, the character was created while Reubens was at The Groundlings. After being turned down by Saturday Night Live in 1980, Reubens created an adult stage show titled The Pee-Wee Herman Show. I remember watching a version of this show which aired on HBO in the mid- 1980's, and was shocked at the raucous comedy which was only hinted at ever-so-slightly in the Tim Burton movie, and to a lesser extent, the children's show. So Pee-Wee is indeed returning to where everything first began. You can watch a clip from the 1981 HBO show below.
This new version of The Pee-wee Herman Show is being billed as "Re-imagined, re-invented, and nuttier than ever." But the press release says that it is"still about a wish," and will include the characters Miss Yvonne, Mailman Mike, Cowboy Curtis and Jambi the Genie, as well as Pee-wee's talking chair, Chairry, Pterri the pterodactyl, robot Conky, Magic Screen, Randy, and many more. Many of the show's original artists, both on stage and behind the scenes are involved in this re-imagined production. I find it somewhat doubtful that Laurence Fishburne will reprise his role as Cowboy Curtis , and Phil Hartman, who played Captain Carl, is obviously no longer with us.
Here is information about Pee-Wee and the original show, thanks to the press release:
The Pee-wee Herman Show" debuted at The Groundlings Theatre in 1981, then moved to the Roxy Theatre on Sunset Strip for five sold out months. Taped as part of HBO's On Location series, the show catapulted Pee-wee into the national consciousness. It lead to Pee-wee's many appearances on "Late Night With David Letterman," followed by a 22-city tour that included Carnegie Hall. In 1985, Warner Brothers brought Pee-wee to the big screen with "Pee-wee's Big Adventure", Tim Burton's feature film debut. Co-written by Reubens, it featured Danny Elfman's first original film score.
The CBS television series "Pee-wee's Playhouse," premiered in 1986. During its five seasons, the show garnered 22 Emmy Awards. Pee-wee's second film, "Big Top Pee-wee" was released in 1988. While "The Pee-wee Herman Show", and "Pee-wee's Playhouse" were an homage to an earlier generation's television classics – "Howdy Doody," "The Mickey Mouse Club," "Captain Kangaroo," "Kukla, Fran, and Ollie," and "The Shari Lewis Show" – Pee-wee himself became one of the most original and beloved stars in all of television history and late-century American culture.
By the late 90s, even fashion was not immune to the style of Pee-wee as fashion designers like Christopher Bailey, Ennio Capasa, Miuccia Prada, Viktor & Rolf, and Thom Browne imitated the high armholes, short inseams, and tight cut suits that Pee-wee made as his trademark. In 2007, Nike created a version of the Nike SB sneaker loosely inspired by Pee-wee.
When Cartoon Network aired the series in 2006, 1.5 million viewers watched every night; the next year TV Guide named the "Playhouse" among the top 10 cult classics of all time. All of the episodes of "Pee-wee's Playhouse" have been issued on DVD (and iTunes) and are consistently best sellers. And as Pee-wee was influenced by the television classics that came before him, it is hard to imagine that "Blue's Clues" or "SpongeBob Square Pants" would be quite the same without him.
Tickets go on sale Tuesday, August 11 at 8 am at all Ticketmaster outlets, ticketmaster.com and by phone at 800-745-3000.