Steven Spielberg In Talks With Universal Studios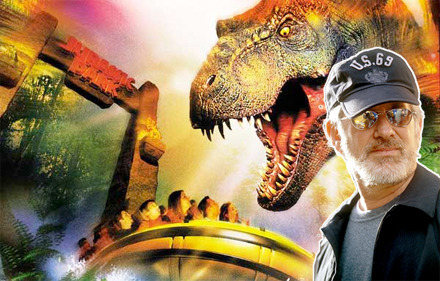 THR is reporting that Universal Orlando officials are in talks with Steven Spielberg over whether or not to renew their consulting contract with the famous filmmaker. For those who don't know, Spielberg gets paid 2% of all park receipts. Spielberg signed the deal 20 years ago when the parks first opened. Universal got the director's input and brand name endorsement, and Spielberg walked away with 2% (which back then couldn't have been a lot).  But today that 2% equals anywhere from $30 – $50 million a year depending on what source you read (Waxman or Finke). And that kind of payout doesn't even include the licensing fees for films like Jurassic Park or E.T. — which is completely separate.
Apparently there is no expiration date for the arrangement, and beginning in June 2010 Spielberg has the right to end it. Leaving the deal would give  the filmmaker access to a single lump sum payment based on his interests in the parks, and would allow him to strike a deal with another theme park — Did you hear that Disney? But if the rumored estimated earnings are correct, I don't see why Spielberg would walk away from an annual boat load of cash in order to deposit a large one-time lump sum and possibly explore his theme park creativity elsewhere.