Pixar's Up And Monsters Inc DVD/Blu-Ray Releases Announced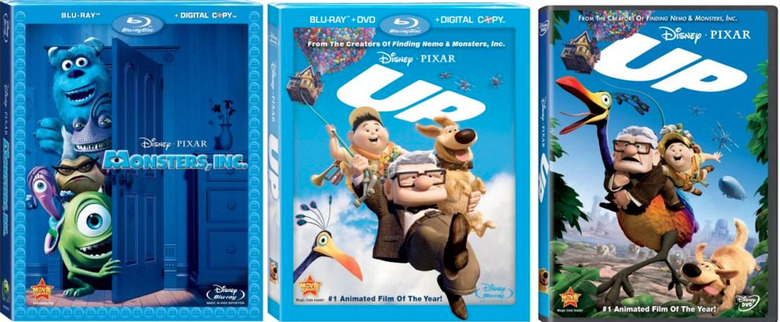 Disney has officially announced the November 10th release of the DVD/Blu-ray releases of Pixar's Up and Monsters Inc, both films directed by Pete Docter. Check out the press releases, which include a list of full special features for both releases, after the jump.
Monsters Inc will be released on 2-Disc Disney Blu-ray Hi Def + DisneyFile Digital Copy November 10, 2009, Available for the SRP of $39.99ALL NEW BLU-RAY BONUS FEATURES
Filmmakers Round Table
o  Filmmakers Pete Docter, Lee Unkrich, Darla Anderson, and Bob Peterson reflect on the creation of the film, and share their most memorable anecdotes.
MONSTERS, INC. RIDE AND GO SEEK: BUILDING MONSTROPOLIS IN TOKYO
o  A sneak peak of the newest Monsters attraction in Tokyo Disneyland, with exclusive interviews of the artists and engineers behind the ride.
ROZ'S 100 DOOR CHALLENGE (INTERACTIVE GAME)
o   Think you have what it takes to be a Monsters, Inc. employee? Roz will be the judge of that with her 100 Door Challenge. Deal with whatever is behind each new door. It could be a puzzle, a trivia question, a mini-game . . . it could be crazy! Do your best. Your future employment at Monsters, Inc. hangs in the balance.
BD-LIVE FEATURES
DISNEY FILE DIGITAL COPY FOR iTUNES AND WINDOW MEDIA PLAYER
PLUS ORIGINAL DVD BONUS FEATURES:·      Academy Award® nominated short film "Mike's New Car" (With Audio Commentary By Directors)
·      Academy Award® winning short film "For the Birds" (With Audio Commentary By Director)
·      Banished Concepts
·      Storyboard To Film Comparison
·      Monster file
·      Animation Gag Reel 1: Sulley/Boo/Waternoose
·      Animation Gag Reel 2: Giraffe Gag
·      Animation Gag Reel 3: Sulley Bowling Boo
Pixar's Up Coming to Blu-RayTM Hi-Def and DVD with Disneyfile Digital Copy on November 10, 2009
Burbank, California, August 10, 2009 – An exhilarating, hilarious and heartfelt animated adventure comes home when Pixar's Up arrives on Blu-rayTM Hi-Def and DVD on November 10, 2009 from Walt Disney Studios Home Entertainment.  Blending inspired whimsy with powerful emotion, the hugely successful feature film is an artistic and entertaining tour de force for the entire family. Up is available in a four-disc Blu-ray Combo Pack, and a two-disc DVD, which both include DisneyFile, a digital copy of the movie that can be viewed on an array of electronic devices, as well as enough bonus features that keep the fun coming.
Academy Award®-nominee Pete Docter (2008, Best Original Screenplay, WALLE; 2001, Best Animated Feature Film, Monsters, Inc.) directs one of the funniest fantasy-adventures of all time featuring a gifted voice cast that includes Ed Asner (Elf), Christopher Plummer (Inside Man), Up co-director and writer Bob Peterson (Monsters, Inc.), Delroy Lindo (This Christmas) and John Ratzenberger (who has lent his voice to every DisneyPixar feature film).
Up is the tenth in an unprecedented streak of critical and box office triumphs for DisneyPixar that includes four Academy Award® winners for Best Animated Feature- WALLE (2008), Ratatouille (2007), The Incredibles (2004) and Finding Nemo (2003)- as well as Cars, Monsters, Inc., Toy Story 2, A Bug's Life and Toy Story. Up joined each of its predecessors in ranking #1 at the box office on its opening weekend.
BONUS FEATURES FOR UP
Commentary by director Pete Docter and co-director Bob Peterson.
Dug's Special Mission – An all new original short film that follows the misadventures of Dug as he attempts to complete his "special mission." The short is directed by Up Story Supervisor, Ronnie Del Carmen.
The Many Endings of Muntz – Many ideas were hatched about how to dispose of the film's arch villain, Muntz, and now viewers can see the many alternate endings proposed during story development.
Partly Cloudy -The hilarious short film that preceded screenings of Up. Everyone knows that the stork delivers babies, but where do the storks get the babies? The answer lies up in the stratosphere where the cloud Gus is a master at creating "dangerous" babies, which prove to be more than a handful for his loval delivery stork Peck. Directed by Pixar story artist, animator and voice actor Peter Sohn.
Adventure is Out There – This action-packed documentary tells the story of the filmmakers' own trek to the tepuis mountains of South America to research thedesign and story of the film.
And, only on Blu-ray Hi-Def, hours of features, and behind-the scenes bonus features, including:
Cine-Explore – A visual montage of concept art, clips and documentary coverage that illustrates the directors' commentary.
Geriatric Hero – A character study of Carl, from research to realization including art and design, rigging, animation and story. It focuses on the issues of aging,"simplexity", shape-language and compelling character arcs.
Canine Companions – For anyone who ever wondered where CG puppies come from, an introduction to the design, behavior and language of dogs.
Russell: Wilderness Explorer - A character study of Russell from inspiration and design to finding the character arc and authentic voice for this wilderness ranger.
Our Giant Flightless Friend, Kevin - Find out how avian research and development at Pixar helped bring a mythical, 13-foot tall iridescent bird to life.
Homemakers of Pixar – Carl and Ellie's house is an important "character" in the film. Fans follow the development of the house from story to art to its ultimate realization in the computer.
Balloons and Flight – Carl's house and Muntz's dirigible presented the filmmakers with two different problems-how could they make a physical impossibility possible? And, in the case of the dirigible, how would they unearth a fallen giant and let it soar?
Composing for Characters – Composer Michael Giacchino returns to score his third DisneyPixar feature film. See how the Up filmmakers collaborated with Giacchino to create the memorable score and compelling musical themes.
Married Life – The original story concept that became the powerful "Married Life" scene, showing Carl and Ellie's love story.
Global Guardian Badge Game – Players try to locate countries, states and capitals around the globe in a multi-layered BD-Exclusive geography game enhanced by BD-Live.
Synopsis: Walt Disney Pictures and Pixar Animation Studios take moviegoers up, up and away on  one of the funniest adventures of all time with their latest comedy-fantasy. Up follows the uplifting tale of 78-year-old balloon salesman Carl Fredricksen, who finally fulfills his lifelong dream of a great adventure when he ties thousands of balloons to his house and flies away to the wilds of South America. But he discovers all too late that his biggest nightmare has stowed away on the trip: an overly optimistic 8-year-old Wilderness Explorer named Russell. Their journey to a lost world, where they encounter some strange, exotic and surprising characters, is filled with hilarity, emotion and wildly imaginative adventure.
Up has a suggested retail price of $39.99 SRP (US) or $44.99 SRP (Canada) for the 2-Disc DVD, and $45.99 SRP (US) or $52.99 SRP (Canada) for the 4-Disc Blu-ray Combo pack.  A 1-Disc DVD is also available at SRP $29.99 (US), $35.99 (Canada)