GI Joe Sequel Will Soon Go Into Development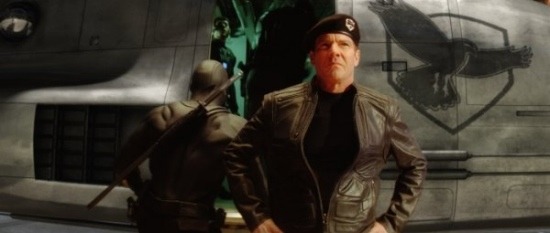 GI Joe: The Rise of Cobra earned an estimated $100 million worldwide despite mostly negative buzz and reviews (39% on Rotten Tomatoes). The film surpassed studio expectations domestically, earning $56.2 million stateside. All of this can mean only one thing – a sequel is already in development.  Paramount Picture's vice chairman, Rob Moore, confirmed to the Los Angeles Times that a sequel "will soon go into development." According to the report, all of the movie's lead actors are "contractually obligated to return for another film," though director Stephen Sommers is not.
Like many of you, I screened the film over the weekend, and had more fun than I was expecting (I briefly tweeted my thoughts from my iphone). The film was the best case scenario of a bad situation – a horrible script, badly written characters, horrible production and costume design, sometimes questionable CG, but somehow the action sequences with crazy high tech impossible weaponry which were fun enough to make it worth my $8. But it wasn't a good movie by any stretch of the imagination.
I wrote on twitter after my screening that I would actually like to see Paramount make a sequel. That without a looming writers strike, maybe the screenplay and production won't suffer as much as they did with Rise of Cobra. And hopefully that sequel would be directed by someone other than Sommers. The concept and franchise has potential, if only if it is handled right. The first film was even built to set up a sequel, but do they have a plan?
Discuss: What would you like to see in a GI Joe sequel?