Alexander Payne Moves From Downsizing To The Descendants?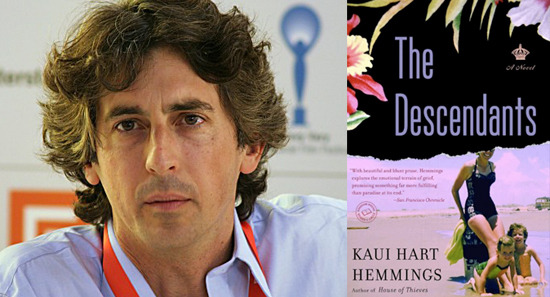 His exec-produced show Hung is doing well on HBO, but it's been five years since Alexander Payne had a feature in theatres. (It really doesn't seem that long since Sideways.) He was going to return with an adaptation of the novel Downsizing, an ambitious project in which a man purposely shrinks himself to be like a little person in order to have an easier life. Crazy tale, but there was a great cast attached: Paul Giamatti, Reese Witherspoon and Sacha Baron Cohen. But the movie would also have been crazy expensive, and it looks like that has killed it for now. Production Weekly said over Twitter today that Payne is now slated to go into production on another feature early next year. This one is an adaptation of the novel The Descendants. More on the project after the jump.
The novel by Kaui Hart Hemmings, is about "besieged and wryly introspective attorney Matt King, the land-rich descendant of Hawaiian royalty and American missionaries and entrepreneurs. He wrestles with the decision of whether to keep his swath of valuable inherited land or sell it to a real estate developer. But even more critical, Matt also has to decide whether to pull the plug on his wife, Joanie, who has been in an irreversible coma for 23 days following a boat-racing accident. Then Matt finds out that Joanie was having an affair with real estate broker Brian Speer, impelling him to travel with his two daughters—precocious 10-year-old Scottie and fresh from rehab 17-year-old Alex—from Oahu to Kauai to confront Brian."
That's very much in the Payne wheelhouse, much more so than Downsizing. Which makes this easier to see as something he could jump on to, but I'd rather have seen him be able to make Downsizing work, precisely because it would have been a chance to see something different from him. One other notable thing: the script for The Descendants is by Nat Faxon and Jim Rash, so this will mark the first time since he broke out with Citizen Ruth that Payne has directed from a script he didn't write.