Four Behind The Scenes Videos For Joe Dante's The Hole 3D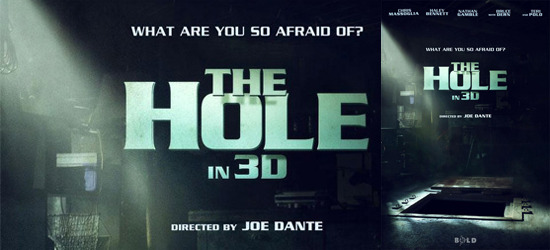 I'm surprised that there's not a lot of evident interest in the fact that Joe Dante is making a new horror feature, but I'm chalking that up to the fact that it's an indie that has only just begun to reach out with images and video clips. The film, The Hole 3D, was at Comic Con, where Dante did some interviews, and now there are four behind the scenes clips thanks to MovieSet. See those clips and learn where you can see the rare workprint of Dante's Gremlins after the break.
"I think you can say this is the lost Twilight Zone episode," Dante told Shock Till You Drop at Comic Con. The Hole 3D is about two kids who, with their mother, move to a new house in the basement of which is a mysterious hole in the basement. Turns out the passageway is key to something that manifests the boys' worst fears. Dante is using 3D to go deep into the frame (and, likely, the hole) rather than to push stuff out at the audience, as explained in these behind the scenes clips. You won't get much of a glimpse of what the movie will look like, but hopefully we'll see a teaser trailer sometime soon. (For more on the approach to making the film, read the great interview with Dante at AICN.)
And if you live in LA, you're in luck because Joe Dante is presenting his second 'Dante's Inferno' mini-festival at the New Beverly Cinema right now. Tomorrow (August 8) is an amazing day at the New Bev, because they've got a six-hour version of The Movie Orgy (Dante's marathon and indescribable experiment in comedy in which pieces of movies and found footage are spliced together) followed by a screening of the ultra-rare workprint of Gremlins. That's got seven minutes of new footage! And the New Bev has new seats! I wish I could be there.