New Screenwriter Hired For Barbarella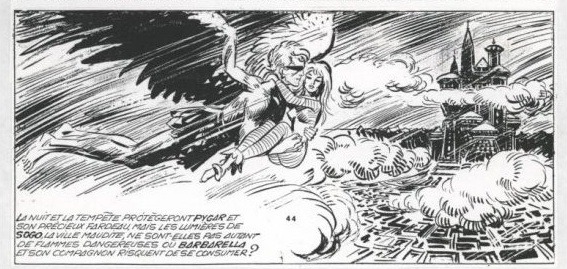 The trades have caught up with Robert Luketic's appointment as director of the new Barbarella, with The Hollywood Reporter also naming Joe Gazzam as the screenwriter of the upcoming do-over. When Robert Rodriguez was in charge, the film was set up at Universal but now, producers Dino and Martha De Laurentiis are "between deals" and will look for a new home base once the script is workable.
Gazzam also scripted Riot, aka Scared Straight, a prisoner thriller that had John Carpenter and Nicolas Cage attached a while.
In the interests of provoking debate, let's play a game of Who Could Be Barbarella? Should this production actually go ahead some day, the casting of the lead is going to be the big news piece, even if it's an unknown that nabs the role. Chances are, though, it will be some kind of name – like those I've listed below.
So which of the following would you like to see as Jean-Claude Forest's oversexed space explorer?
Sienna Miller is certainly not shy of dumbo popcorn fodder nor the kind of costumes I'd imagine a Barbarella redux would necessitate. I think she's a leading contender.
Anne Hathaway is a far better actress but, frankly, the script would have to excel for this to not be a serious step backwards. A real outside bet.
Putting Emily Blunt into Barbarella's shoes would perhaps go some way to settling all of those who were rankled when she was denied Iron Man 2. Or – while we're on the subject – how about Scarlett Johansson, Blunt's Black Widow understudy-got-lucky?
Eva Green is appropriately French and suitably eccentric. Her Barbarella would probably better suit a director like Ms. Green's Franklyn collaborator Gerald McMorrow, however.
Let's not even consider Keira Knightley, but her Never Let Me Go co-star Carey Mulligan is definitely an exciting actress. Perhaps too elfin for this role?
Somebody will probably suggest Kristen Stewart because they're Twilight obsessed. Let them. We can just shrug it off and carry on.
Amber Heard is currently filming The Ward with the aforementioned John Carpenter right now. She somehow looks the part to me and I think this might just be what a modern day Barbarella looks like to the Laurentiis'.
Or... what about Rose McGowan coming back to the part, just to spite Rodriguez? That would require her being able to get so high profile a role without his support, however. Looooong shot.
Reese Witherspoon isn't the right type, but as she reportedly had some clash and fray with Luketic on the set of Legally Blonde it doubly doesn't matter. As much as I think she's great, she aint our Barb.
The Jessicas Biel and Alba are always included on lists like this – for some reason.
Oh – and so is Megan Fox.
Angelina Jolie is still a very young woman, and a very popular pin-up to boot, but I can't help thinking the filmmakers will skew younger. For the over-30s, though, she's easily the more desirable, and more expensive, option.
How about one of Snyder's Sucker Punch girls – or even one of the Sucker Punch girls who never were. Amanda Seyfried seems to be the most distinct possibility, I'd say.
Katherine Heigl has already collaborated with Luketic twice – could they make it the hat trick and triple up? It doesn't sit right with me – but then, who knows what kind of Barbarella they are planning here?