Netflix To Stream Movies On The iPhone?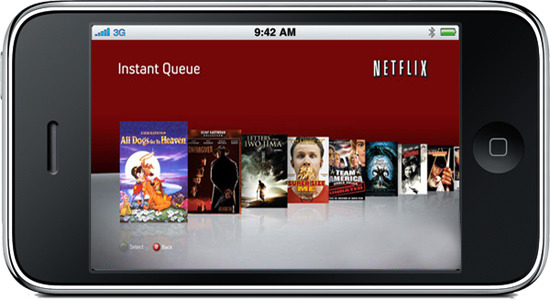 Rumor has it that Netflix might be releasing an official iPhone app. Yeah, yeah, we know... there are already a bunch of iPhone applications which allow you to manage your netflix queue (some of which we wrote about in iPhone Apps For Movie Geeks). But I'm not talking about managing your rental queue (although, I'm sure it will be able to do that). According Multichannel News, an industry executive claims that Netflix will release an iPhone app will allow you to stream movies in your instant queue via Netflix's Watch Instantly streaming service.
Earlier today it was reported that ABC is making available the first five seasons of Lost (as well as a few other shows) on Netflix Watch Instantly. Just imagine beign able to watch Lost or any of the great movies and tv shows available on Netflix Watch Instantly wherever, whenever. When I'm eating lunch down the street, watching Mad Men from my instant queue, then I'll know I'm in the future.
Now before you get too excited, realize that the app will probably only work over a wifi connection. AT&T (cue the imperial march from Star Wars) has been very restrictive over streaming video applications in the app store. The company stripped the SlingPlayer app from being able to stream over 3G due to concerns that a streaming app might be too much for the cell network. A rumored Hulu app has not made an appearance, and will likely be restricted to Wifi only streaming. But strangely AT&T and iPhone allow the MLB At Bat and YouTube to stream video over the 3G network.
A Netfix app would be a lot more interesting if I could watch my digital queue movies on the bus, or wherever. Same could be said with the Slingbox app or the possibly upcoming Hulu app. It is a shame that 3G streaming isn't being allowed at this time. It seems to me that it is only a matter of time before these type of features really take off on other phones (actually, the Blackberry allows Slingbox streaming on 3G already) before AT&T is forced to give in. But will the network be strong enough to support the bandwidth?