New Iron Man 2 Photos Introduce The Mystery Of Stark Expo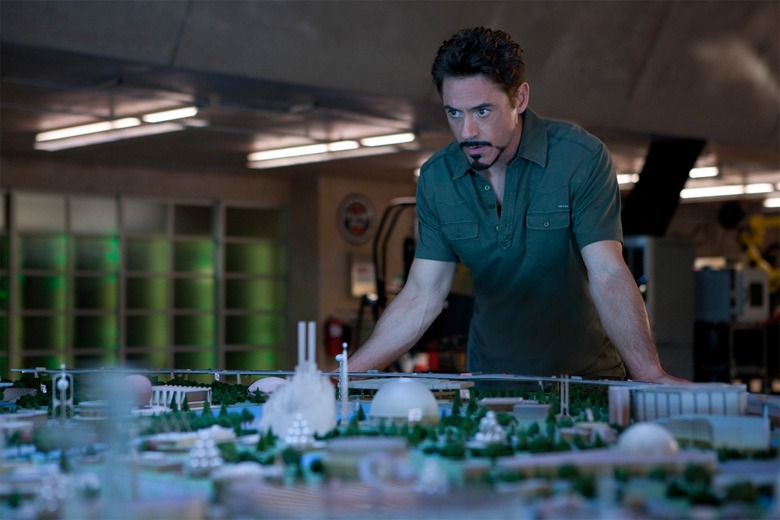 A couple new photos from Jon Favreau's Iron Man 2 have been circulating around the interwebs. The above photo was released on Marvel, but flew off most everyone's radar due to Comic-Con. The image features Tony Stark looking at a scale model of Disneyland. Okay, it isn't Disneyland... Details and another new photo after the jump.
Marvel's set visit article describes a scene where Tony is "looking down at a scale model of the Stark Expo, which closely resembles the New York World's Fair Pavilion. This included a Unisphere at the center of the convention. As the camera panned from the level of the model towards Tony looking inquisitive at the Stark Expo, he spoke to himself, "The key to the future is...where?"." Marvel also witnessed Downey filming another scene where Tony was investigating further into the "main pavilion of the Stark Expo", reconstructing "the main pavilion by enlarging and relocating structures with his hand motions," with the help of Jarvis in his workshop. After viewing these two scenes, Randy Ma speculates that a central mystery in Iron Man 2 requires Tony to look into his father's past, specifically the Stark Expo, which must "play a major role in the energy crisis, which is a chief issue in the film."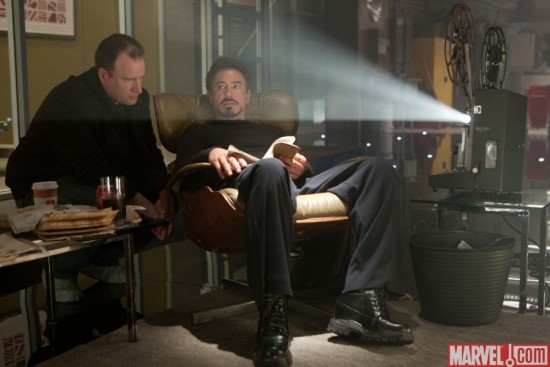 Above you will see another new behind the scenes photo, also from Marvel, featuring producer Kevin Feige talking to Robert Downey Jr. on set (between takes?) on a scene where Tony Stark is looking at old 16mm projected footage. Of what? I'm sure it has something to do with his father and Stark Expo.