Will Esther Become A New Horror Icon? Orphan Has Makings Of A Cult Sleeper.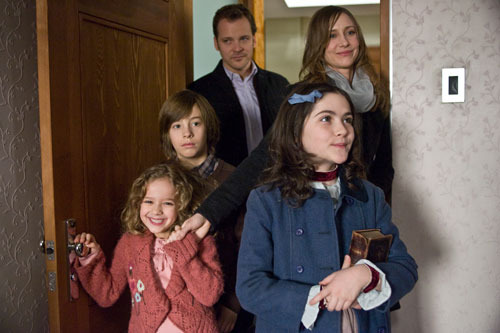 Even though the presence of talented actors Vera Farmiga and Peter Sarsgaard was quizzical, the trailers for Orphan did little to convince that the movie was anything but a derivative, un-PC rip-off of The Bad Seed and Mac Culkin's The Good Son. Producer Joel Silver (as well as Leonardo DiCaprio) seemed to be aiming for a quiet ground-double between pricey blockbusters. Pay no mind. Business as usual. But over the last two weeks, the oft-profane buzz around Orphan on Twitter and elsewhere, alongside a surprising 7.1 rating on IMDB, and enthusiastic genre reviews, now suggest the makings of a cult horror flick. Word-of-mouth about the ending and my kooky, inexplicable obsession with the movie's titular character, Esther, finally lead me to check it out. It was worth it.
Orphan is predictable and side-steps plot-holes a plenty with an unapologetic curtsy, but the winter settings, traditional pacing, and crisp cinematography by Jeff Cutter (the new A Nightmare on Elm Street) are surprisingly well done. Of course, what really has people talking is the performance by 12-year-old new-comer Isabelle Fuhrman as Esther. Without spoiling anything, Fuhrman's eloquent, learned Russian accent and ruthless, economical capability for murder had me imagining a face-off with Viggo Mortensen's tatted thug in Eastern Promises. She does not play around. And her handling of a box-cutter at one point seems eerily adorable precocious.
The performance is enhanced because Esther is not Satan-incarnate a la The Omen or cursed with supernatural abilities (cue bad CGI). Moreover, the murky presentation of the character's past is effectively haunting and fun, and keeps your mind spinning post-credits. I think that once the film hits DVD—it's grossed a tidy $27m in two weeks—there should be enough interest to consider making a prequel. At the very least, I would expect a couple of straight-to-DVD cheapos featuring another child actress. And one or four nubile crazies out as Esther for Halloween. Given, Orphan is nothing new or special—in a way though, the familarity of the beats is charming—but with time Esther might be appointed a lower-tier horror icon, several notches above Angela in Sleepaway Camp. Sort of hilarious. If you've seen the film, what do you think about the buzz and the film's big twist?