Jason Reitman's Up In The Air To Premiere At 2009 Toronto Film Festival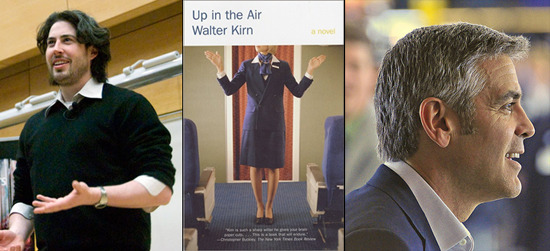 Jason Reitman's new film, a big screen adaptation of Walter Kim's novel Up in the Air, will premiere at the 2009 Toronto International Film Festival.
I've been a huge fan of Reitman's work, ever since discovering his early short films (which I highly recommend). Up in the Air is probably the best script I've read in the past 3 or 4 years, and if it is any indication of the final product – [insert hyperbolic statement here]. The dramedy about corporate downsizing and business travel will screen at the Canadian film fest as a Premiere Gala selection. And if you couldn't tell from my excitement — yes, I'll be there.
The Toronto premiere isn't really much of a surprise, especially considering Reitman's twitter profile has featured the short blurb: "A brief chronicle of my attempt to finish my film in time for the Toronto Film Festival". While a release date has not yet been announced, I'm pretty sure the movie will hit theaters in November or December, much like Juno did a couple years ago. For those who don't remember, Juno also premiered in Toronto (with a sneak at Telluride).
Official Plot Synopsis follows:
"From Jason Reitman, the Oscar® nominated director of "Juno," comes a comedy called "Up in the Air" starring Oscar® winner George Clooney as Ryan Bingham, a corporate downsizing expert whose cherished life on the road is threatened just as he is on the cusp of reaching ten million frequent flyer miles and just after he's met the frequent-traveler woman of his dreams."
Other newly announced films include  Joe Dante's 3D family horror film The Hole, Amelie helmer Jean-Pierre Jeunet's Micmacs à tire-larigot, and Fatih Akin's Soul Kitchen. Head on over to Variety to read about some of the other films which were just added onto the line-up.