David Cronenberg To Adapt Don DeLillo Novel Cosmopolis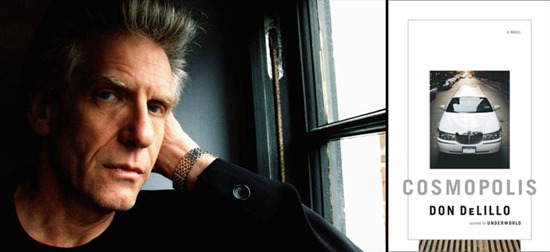 I like this! I think. THR reported over the weekend (sorry, we were knee-deep in Comic Con) that David Cronenberg had signed to direct a film adaptation of the Don DeLillo novel Cosmopolis. The trade story lacks a few really key details, like the name of the screenwriter. Cronenberg often scripts his own material, or at least does a script pass on another screenwriter's draft; I'm curious to know who's writing this one. Hit the jump for details on the novel and some thoughts on the project.
DeLillo may be best known for his sprawling opus Underworld (with which I've never quite been able to connect) but Cosmopolis is a shorter, more focused novel. It tracks Eric Packer, a 28-year old billionaire who encounters odd characters and situations as he travels across midtown Manhattan in his luxurious stretch limo to get a haircut from his father's old barber. The novel, which met with a mixed reception at best, takes place almost entirely in the limo over the span of one day.
It sounds like a tough novel to adapt, but Cronenberg has tackled tough material before. He made great movies from 'unfilmable' books like Naked Lunch and Crash, and turned an unlikely piece of source material about twin gynecologists into a vehicle for a tour de force performance by Jeremy Irons. (Dead Ringers, and I really hope I didn't need to specify that.) Since Cosmopolis (on the novel's pages, at least) takes place mostly inside a car, this could be an opportunity for Cronenberg to further play with some of his work on Crash, where he sought to shoot car scenes in new ways. The director is a big car and motorcycle enthusiast, and while shooting a limo isn't necessarily what you'd think a guy like that would want to do, maybe it'll work.
Meanwhile, what's this mean for The Matarese Circle, the adaptation of Robert Ludlum's novel that Cronenberg had been working on with the thought of Denzel Washington and Tom Cruise starring? When Cruise decided to make Witchita with James Mangold, there's a good chance that Matarese died. It was already taking some time to hammer out, with Cronenberg and other writers tackling drafts, and the director never seems to stay on a struggling project for long. At this point, I'd be surprised to hear that there was much of a chance of his name ever appearing on the picture, assuming MGM makes it happen at all.