Comic-Con: Fringe Q&A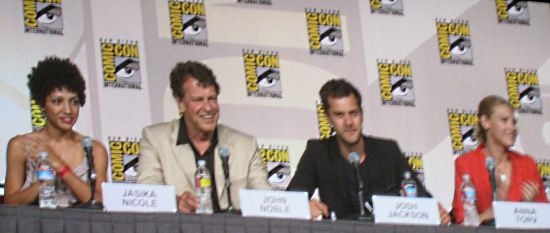 I wasn't expecting much from the Fringe panel at Comic-Con yesterday, but it ended up being one of the most hilarious panels at the show thanks to the antics of John Noble and the rest of the cast. Writers Roberto Orci, Alex Kurtzmann, and Jeff Pinkner also joined in on the fun. They didn't show any new footage, but there were a few interesting tidbits of info for Fringe fans.Note: Spoilers for Fringe Season 2 after the break!
We will see the rest of the conversation that Olivia has with William Bell at some point in the new season premiere. It may not start there, though.
"When we first met Olivia, she was just a really hot FBI agent," Anna Torva said of her character. It sounds like she was well aware how boring Olivia was at the beginning of the series, and she's very glad to see Olivia developing a personality as well as realizing how she fits into the grand scope of things.
They chose to put William Bell's office in the Twin Towers because it was one of the easiest ways to symbolize that we were in a completely different reality. They did mention that one of the headlines mentioned "President Obama moving into new White House", implying that it was destroyed by terrorist attack instead. It's not necessarily a better reality, just a different one.
Jasika Nicole, who plays Astrid, was adored by the crowd. She mentioned that one of her favorite scenes of last season was where a monster was impregnating people, and they had to do multiple takes while one actor was covered with mealworms in a body bag.
In the first season they were reactive to the mysteries of their world, this season will be far more proactive since they have a better sense of what's going on.
Joshua Jackson mentioned that he doesn't really know his own father, which may bring a bit of authenticity to his role as he's trying to repair his strained relationship wth Walter. John Noble was definitely like a father figure to everyone on the cast.
Nimoy will be on the show as much as he can.
There will be some plot lines related to the characters meeting their alternate personalities. In particular, they do want Walter to meet his alternate at some point. I'd imagine he'd be somewhat pissed since our Walter basically kidnapped alternate Walter's son.