Comic-Con Promo Art For Scott Stewart's Legion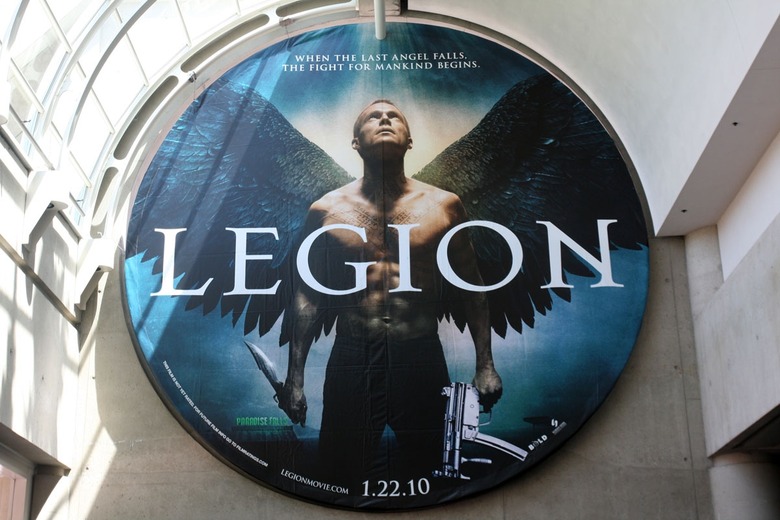 Maximum PC has a bunch of spy shots from the still-being-set-up Comic-Con show floor, most of which isn't too interesting (boxes being unpacked, displays being assembled). The one that caught my attention is this advertisement for the Screen Gems film Legion. The image of an angel holding a knife and a gun is very striking.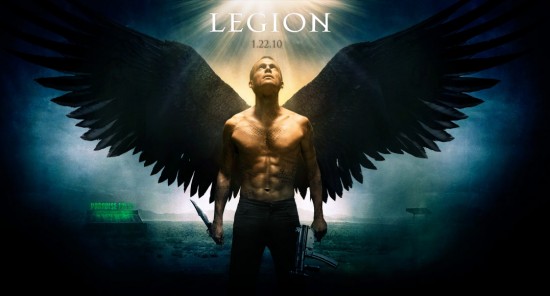 This film has basically gone under my radar. Most everyone I know (aside from some of the horror site writers) were shocked to hear that it was being bundled with District 9 at the Sony panel because, well, most people hadn't ever heard of the film before. Here is the official synopsis from the Comic-Con schedule:
When the last angel falls, the fight for mankind begins. Having lost faith in the human race, a legion of angels descend to Earth to bring about the Apocalypse. Humanity's only hope lies in a group of strangers trapped in a desert diner and the Archangel Michael himself (Paul Bettany). Appearing on stage: Paul Bettany (A Beautiful Mind, The DaVinci Code), Adrianne Palicki (Friday Night Lights, Supernatural), Tyrese Gibson (Transformers, Death Race), Doug Jones (Silver Surfer in Fantastic Four: Rise of the Silver Surfer and Abe Sapien in Hellboy), and director Scott Stewart (helming his first feature film after working on VFX for Sin City, Harry Potter and The Goblet of Fire, and Iron Man, among many others). From Screen Gems.
Legion is currently scheduled to hit theaters on January 22nd 2010.