New Promo For Jean Claude Van Damme's The Eagle Path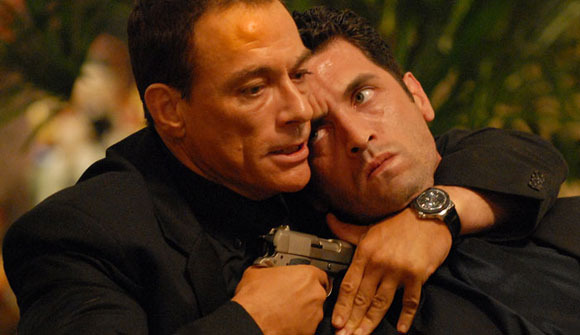 Just one movie can turn a whole career around. For Jean Claude Van Damme, that was JCVD. The movie proved (at long last) that the notoriously self-aggrandizing actor had a sense of humor. Folks that hadn't paid attention to the guy in a decade were suddenly big fans. Who needs The Expendables when you can rope your own persona into a failed bank robbery and subsequent media circus? Now Van Damme is hard at work on a more tranditional new film called The Eagle Path, and Twitch has a new promo.
The film is much more in the line of late '80s / early '90s action flicks. You can use the term 'standard' or 'classic' depending on your point of view. Picture a lower-budget version of Taken starring JCVD. Which is a long way of saying that from here, this looks like a fall back to the DTV pictures Van Damme had been making for years before JCVD. maybe doing The Expendables would have been a good idea, after all.
I will say, however, that since we just dont' see enough shotgun-toting guys in wheelchairs, this promo reel at least delivers on one front.
Here's the synopsis:
A military veteran and former mercenary, Frenchy (Van Damme) works as a taxi driver, hiding somewhere in East Asia, haunted by his past. After his driving shifts he often frequents the Eagle's Nest, a seedy bar that houses a caged eagle. In the midst of the chaotic Asian traffic Frenchy picks up a beautiful female passenger who will change him forever.
Driven by dark memories of his childhood, he becomes determined to improve her life and, without her approval, he embarks on a journey which proves to be more dangerous and complicated then he expected. After encountering a series of harrowing obstacles he calls in favors from his special ops friends who immediately join him. His military team engages in the biggest fight of their lives. War is hell, but nothing they've done could have prepared them for this.
if(document.getElementById("obj1f866af11db04864bca16236377b518f")) document.getElementById("obj1f866af11db04864bca16236377b518f").setAttribute("flashvars", "file=ecb975176c6c46daa50a24ad53874e80&permalink="+encodeURIComponent(location.href)); if(document.getElementById("emb1f866af11db04864bca16236377b518f")) document.getElementById("emb1f866af11db04864bca16236377b518f").setAttribute("flashvars", "file=ecb975176c6c46daa50a24ad53874e80&permalink="+encodeURIComponent(location.href));
// –>