Robert Zemeckis' A Christmas Carol International Movie Trailer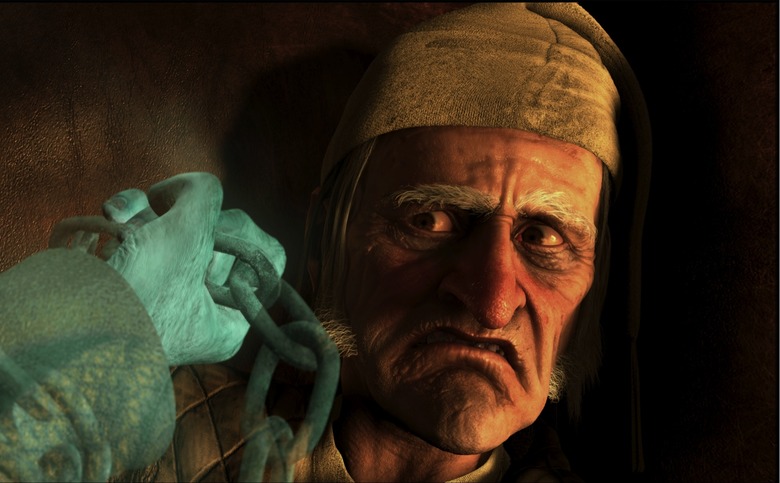 Walt Disney Pictures has released an international (Italian) movie trailer for Robert Zemeckis' A Christmas Carol. Disney had previously released some footage from the film, but this is the first trailer. I'm sure this trailer is a lot more impressive when viewed in 3D. Also, I should warn you the recording is very dark and in Italian. Watch the trailer after the jump, and leave your thoughts in the comments below.
The film is being billed as "a multi-sensory thrill ride re-envisioned by Academy Award-winning filmmaker Robert Zemeckis," capturing "the fantastical essence of the classic Dickens tale in a groundbreaking 3D motion picture event." The official plot synopsis follows: Ebenezer Scrooge (Jim Carrey) begins the Christmas holiday with his usual miserly contempt, barking at his faithful clerk (Gary Oldman) and his cheery nephew (Colin Firth). But when the ghosts of Christmas Past, Present and Yet to Come take him on an eye-opening journey revealing truths Old Scrooge is reluctant to face, he must open his heart to undo years of ill will before it's too late." Carrey not only plays Scrooge, but also the Ghost of Christmas Past, the Ghost of Christmas Present and the Ghost of Christmas Yet To Come. And Oldman does triple duty as Bob Cratchit, Marley and Tiny Tim.
Disney's A Christmas Carol hits theaters on November 6th 2009.
via: RamasScreen