Russell Crowe Pursuing More Master & Commander?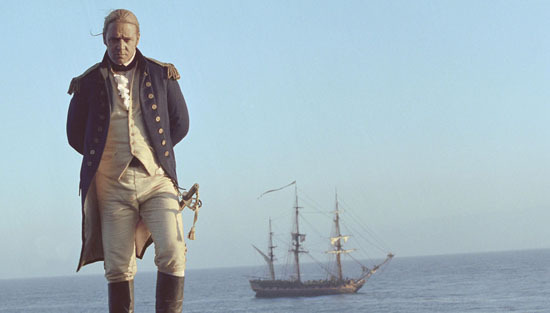 An AP story that I caught via USAToday says that Russell Crowe is looking to reprise his role from Master & Commander. He says a script has been completed based on The Reverse of the Medal, which is novel number eleven in the twenty-volume series by Patrick O'Brian. Speculation has long run rampant (well, perhaps not 'rampant', but the subject still comes up) that Crowe was interested in another film, but this is the first real confirmation we've had. The report doesn't name the screenwriter.
Given that the film has been a favorite among Crowe fans and that another seventeen novels remain unadapted (the first film drew from three books), sequel talk has cropped up occasionally in the years since Peter Wier's film appeared in 2003. But in 2005 Weir said he didn't think it was likely, which isn't a huge surprise. Making a big nautical adventure is expensive, and Master & Commander isn't the sort of film that sets the box office on fire. Doing another $150m adult adventure picture at sea seems like a risky move. It's not the sort of movie Fox makes now. Crowe isn't even signed for another film, though Paul Bettany and other cast members were signed to multiple pictures at one time. That was six, seven years ago, however, and probably doesn't mean anything now.
Indeed, Crowe is quoted saying "there's still a long way to go," in the process to getting another film made. I won't pretend to have read the books, but following is a block quote of synopsis from Amazon. Regardless, I'd love to see another film in this series. As the AV Club has noted, this could easily have been the beginning of a great franchise, and one with some hilariously memorable sequences: "Fox should green-light an adaptation of the second novel, Post Captain, solely for the sequence where Russell Crowe sneaks across the Spanish border in a bear costume."
Brief synopsis:
Ashore between cruises, Captain Jack Aubrey is persuaded to sink some money into an investment scheme. Soon this innocent decision enmeshes him in various criminal and even treasonous enterprises, which threaten to destroy his entire career. Bad luck? A deliberate plot?