Movie Posters: The Box And Kick-Ass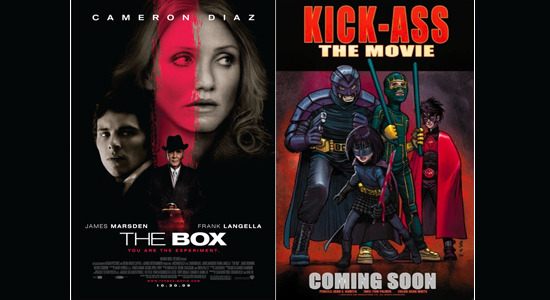 Richard Kelly has posted on Twitter the final poster for his upcoming sci-fi thriller The Box. And AICN has a first look at a Comic-Con exclusive poster for Matthew Vaughn's Kick-Ass, drawn by series artist John Romita, Jr. Vaughn, Romita and some of the cast will apparently be on hand from 3:15-4:00pm fto sign the poster for fans prior to their Hall H presentation at 5:45pm. Location information will be revealed later.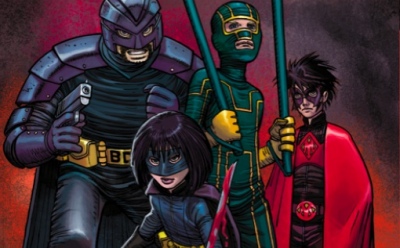 Vaughn confirmed to MTV that the schoolgirl costume you've seen actress Chloe Moretz wearing in the promo photos is not her Hit Girl costume. Vaughn said that all of the costumes in the film were adapted directly as possible from artist Romita Jr.'s designs. The Comic-Con exclusive teaser poster shows the four main characters in costume, from left to right: Big Daddy, Hit Girl, Kick-Ass and The Red Mist. Yes, that big guy to the left with the armor on his head and shoulders is the character played by Nicolas Cage in the movie. I'm not sure what that could possibly look like in live-action. Click on over to AICN to see the poster in higher resolution.
Kick-Ass tells the story of (beware of possible comic book spoilers) "Dave Lizewski, a kid growing up in a rundown suburb of Americ. He isn't a gamer, he isn't a jock, he isn't a mathlete, he's just a regular kid. When he is not hanging out at the local comic store with his friends Todd and Marty, he is fantasising about his school teacher and Katie Deauxma, the class hottie. The only thing that is unusual about Dave is that about a year ago his Mother died. But somehow through this blend of normality, teenage angst and irritation at being continually mugged, Dave makes the decision to become a superhero' KICK ASS! Dave's first foray into being a Superhero results in him being stabbed and run over. When Dave recovers he realises he can't walk away from being a hero, and when he successfully steps in on a mugging he brings himself to the attention of the US media and Frank D'Amico could this be the guy who knicked his coke? As Dave gets sucked into the dark world of vigilante crime fighting he gains a sidekick named 'Red Mist'."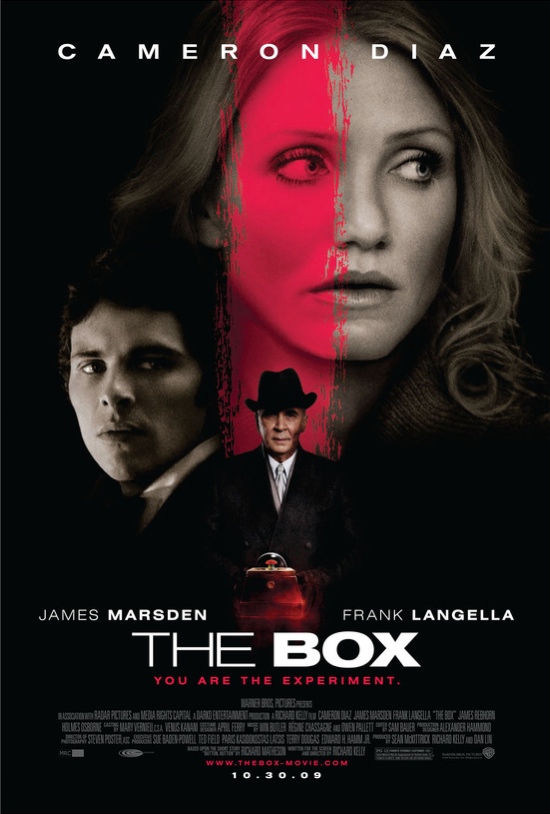 The Box tells the story of Norma and Arthur Lewis (James Marsden and Cameron Diaz), a suburban couple with a young child, receive a simple wooden box as a gift, which bears fatal and irrevocable consequences. A mysterious stranger, delivers the message that the box promises to bestow upon its owner $1 million with the press of a button. But, pressing this button will simultaneously cause the death of another human being somewhere in the world; someone they don't know. With just 24 hours to have the box in their possession, Norma and Arthur find themselves in the cross-hairs of a startling moral dilemma and must face the true nature of their humanity. The Box hits theaters on November 15th 2009.