British Trailer For Guy Ritchie's Sherlock Holmes, And News Of An Alternative, Modern Holmes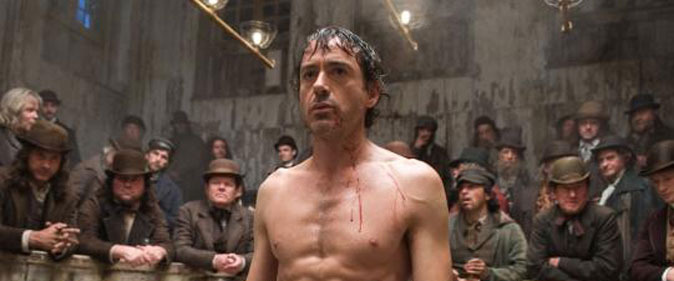 A new British trailer for the Sherlock Holmes picture by Guy Ritchie has been let loose, timed to coincide with the release of the new Harry Potter. As well as running in our cinemas it is of course online, and you can see it after the break. While the overall structure of the thing and much of the material is the same as the US cut, there is quite a lot of new mucking about too. If you're looking forward to the film, as many are, it probably gives you more of just what you're waiting for. On the other hand, you like I might be more interested in an alternative take on Holmes that the BBC are preparing...
Despite the Ritchie film's trailer looking like it contains a large amount of plot material, it doesn't really. I dare say this will be corrected with a later trailer that walks us by the hand through acts one and two, as is the way with most promo clips these days. Or perhaps, this being a mystery of sorts, they will go easy on us and let the secrets be secrets.
Personally, I know full well what the plotline is and what threat this supposedly supernatural Lord Blackwood actually presents, but I don't think it would be accepted for me to publish it here, even with a spoiler warning. Word would get round and probably boomerang back at us and I'd end up getting into all sorts of trouble. If you really want to know, though, you can just ask nicely and I will at least point you in the right direction. I would desperately want to know this info myself if I didn't, and I'd be asking anybody I thought could fill me in.
At least during planning, scripting and shooting, there were seeds being sewn for a sequel. Whether or not these clues and surprise cameo make it through to the final cut is anybody's guess, but I'm sure it hangs on studio confidence in the finished product. I expect they'll know exactly what they got here – a kind of Sherlock Holmes theme park ride. And I suspect it will actually go down very well with audiences everywhere.
In less disinteresting Sherlock Holmes news, the BBC have reconfirmed their new series based upon the great detective's casebook. Created by Stephen Moffat, the new Dr. Who showrunner and Tintin movie co-writer, and Mark Gatiss, The League of Gentlemen member and Lucifer Box author, it will star Benedict Cumberbatch as Holmes, Martin Freeman as Watson and Rupert Graves as Lestrade. The catch this time is that it will be set in present day London.
The first series of this reinvigorated Holmes is to be directed by Coky Giedroyc and comprises three 90-minute episodes.