An Education Movie Trailer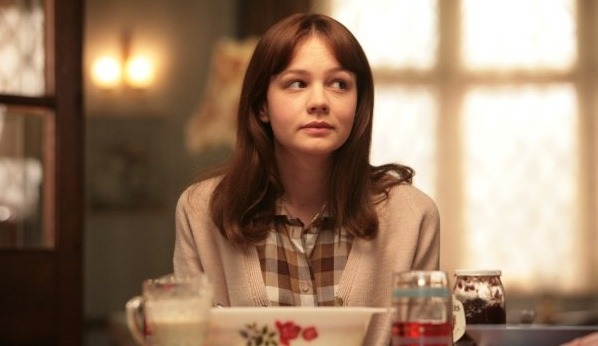 Sony Pictures Classics has released a trailer for An Education, a film which was subject to one of the few intense bidding wars at this year's Sundance. Jenny is a top A-level student who has hopes of attending university at Oxford in the early 1960's, but she meets a charismatic older man (Peter Sarsgaard) who offers an exciting alternative of seeing and experiencing life.
The story is adapted from Lynn Barber's memoirs by British novelist Nick Hornby, best known to Americans as the writer of the books High Fidelity, About A Boy and Fever Pitch. The film features a notable performance from Carey Mulligan. After seeing this picture, you too will be convinced she could be the next big thing. Watch the trailer after the jump and leave your thoughts in the comments below.
Full Official Plot Synopsis: An Education is the story of a teenage girl's coming-of-age set in Britain in the early 1960s on the cusp of the strait-laced, post-war period and the free-spirited decade to come. Directed by award-winning Danish filmmaker Lone Scherfig (Wilbur Wants to Kill Himself, Italian for Beginners) from a screenplay by Nick Hornby (High Fidelity, About a Boy), AN EDUCATION was adapted from a memoir by journalist Lynn Barber, which originally appeared in the literary magazine Granta.
It's 1961 and attractive, bright 16-year-old schoolgirl, Jenny (Carey Mulligan) is poised on the brink of womanhood, dreaming of a rarefied, Gauloise-scented existence as she sings along to Juliette Greco in her Twickenham bedroom. Stifled by the tedium of adolescent routine, Jenny can't wait for adult life to begin. Meanwhile, she's a diligent student, excelling in every subject except the Latin that her father is convinced will land her a place at Oxford University where she is dreaming of going.
On a rainy day no different to all the others, her suburban life is upended by the arrival of an unsuitable suitor, 30-ish David (Peter Sarsgaard). Urbane and witty, David instantly unseats Jenny's stammering schoolboy admirer, Graham (Matthew Beard). To her frank amazement, he even manages to charm her conservative parents Jack (Alfred Molina) and Marjorie (Cara Seymour) and effortlessly overcomes any instinctive objections to their daughter's older, Jewish suitor.
Very quickly, David introduces Jenny to a glittering new world of classical concerts and late-night suppers with his attractive friend and business partner, Danny (Dominic Cooper) and Danny's girlfriend, the beautiful but vacuous Helen (Rosamund Pike). David replaces Jenny's traditional education with his own version, picking her up from school in his Bristol roadster and whisking her off to art auctions and smoky clubs. Just as Jenny's family's long-held dream of getting their brilliant daughter into Oxford seems within reach, Jenny is tempted by another kind of life. Will David be the making of Jenny or her undoing?
Watch the trailer in High Definition on Yahoo. An Education hits theaters on July 14th 2009.