David Arquette And Courtney Cox Have Signed For Scream 4, Wes Craven Maybe Not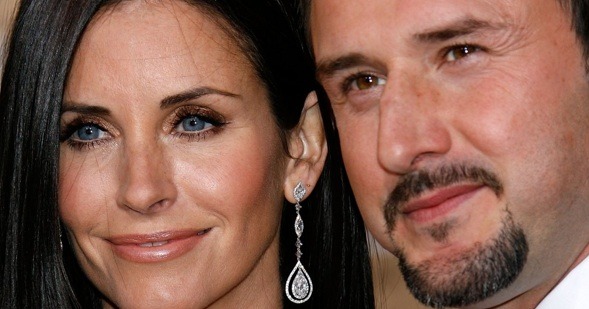 David Arquette has told E! Online that he will definitely be returning for the next Scream installment, as will his wife, Courtney Cox. We've known for a good while that they were in talks for the project, but Arquette is now treating it like a done deal. Amusingly, he imparted this news to the E! reporter from his plastic cubicle above Madison Square Garden. Snoot and sneer at him for hanging up there all you want, but at least check out the charity he's supporting – Feeding America. Kudos, Mr. Arquette.
After the break, some Arquette quotes on what he knows, and doesn't know, about the next Scream picture, and why he said yes to coming back.
So, what sold the sequel to the Arquettes?
I fell in love with my wife on Scream, so the opportunity to bring [Dewey] back to life and for my wife to play that really bitchy character again, it's just going to be really fun. It's just great.
Will Neve Campbell also be coming back for more? Well, no she isn't. But it didn't stop E! asking David about her involvement.
I hope Neve does it. I really hope so.
Hope on, David. I think she's really going to be missed. Kevin Williamson has admitted that he's finding it hard to write a Scream without Sydney. Hopefully this necessity will be the mother of invention and he'll turn out something rather more Scream 1 than Scream 3.
What's the film going to be about? Arquette does have some idea of the film's premise, though he's not talking:
Kevin has sort of put out the broad strokes, but I don't think I'm at liberty to share any of that.
Good to know there's actually a plot outline coming into focus though. So many films get this far, if not a lot further, without one even being initiated.
I love the series, for what its worth: the first film very much, the second a fair bit... and the third a little. I'm definitely onboard for more, especially with Williamson and Wes Craven reteamed. Of course, Craven isn't a dead cert yet, not even in the eyes of David Arquette:
Kevin Williamson is writing the script at this moment, and hopefully Wes Craven is going to direct.
I guess the ball is in Williamson's court. Can he deliver the quality of script we are all waiting for? Yes, I believe he can. The question is Will he?