Morgan Spurlock To Direct Simpsons Documentary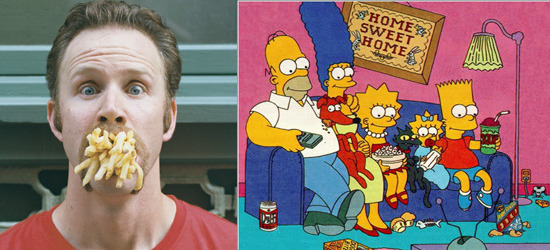 20th Century Fox has announced that Academy Award-nominated documentary filmmaker Morgan Spurlock (Super Size Me, 30 Days) will produce and direct a documentary on  the cultural phenomenon of The Simpsons. The documentary will be titled The Simpsons 20th Anniversary Special in 3-D on Ice, and will air on Thursday, January 14th 2010 on Fox. In the tv doc, Spurlock will examine the cultural impact of the longest running comedy in television history, and how the fictional family has seen the world for two decades.
"When they first called me about this, I thought it was a prank and I hung up," said Spurlock. "And then my agent called back and said, 'No, no, this is for real,' at which point I fainted. Then when I woke up, I called everyone I knew because it was the coolest thing I could ever get to do in my career."
Spurlock's documentaries are best known for their first-person narrative, putting him at the center of the experience, on a journey to find an answer (usually within a short time restraint). It will be interesting if this Simpsons doc will be more like a traditional television retrospective or if it will feature Spurlock on a journey to discover why The Simpsons have become such a huge part of American pop culture.
Spurlock and crew will be on hand at the 2009 San Diego Comic-Con International to audition fans on July 25th for a chance to appear in the special. Applicants should submit contact information and note which character they embody and how to RealLifeSimpsons@gmail.com.