The Road's Kodi Smit-McPhee May Let The Right One In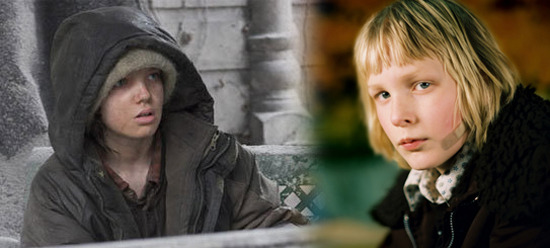 Moviehole reports than in a pull-out section of the Melbourne, Australia paper The Herald-Sun young actor Kodi Smit-McPhee (seen alongside Eric Bana in Romulus, My Father and co-star of The Road) mentioned that he was up for one of the two lead roles in the American remake of Let the Right One In. Moviehole doesn't provide any transcribed quotes, but paraphrases Smit-McPhee saying that his chances are 'looking good'.Cloverfield director Matt Reeves is helming the English-language remake, which will be called Let Me In. The title change was likely inevitable, but "Let Me In"? Ugh. What a pallid, forgettable title. A few other things will distinguish the remake from the film by Tomas Alfredson. Though the character names will be Owen and Abby (rather than Oskar and Eli) the American version will be based not on the Alfredson film, but the original novel by John Ajvide Lindqvist, who also wrote the screenplay for the Swedish film version. Lindqvist calls Alfredson's film "the definitive version" but says this is a "re-adaptation" because Reeves (who is writing the screenplay) "will make a new film based on the book, and not remake the Swedish film." Reeves has said he wants to retain the story's 1980s time period, and mentioned Littleton, Colorado as a possible setting.
Meanwhile, there's reason to speculate that Smit-McPhee could end up being the next kid phenom. He was originally cast as young Logan in Wolverine, but dropped out of that role (good move, kid!) to play alongside Viggo Mortensen in The Road. If he's good, that movie could make his name as an up and coming kid star, as he'll be in nearly every scene of the film. Mortensen has certainly had great things to say about him. "...with Kodi in it, [The Road] has a chance to be an extremely good movie, maybe even a great one," Viggo told the New York Times in May '08, in a piece which fawned over the kid to a surprising degree.
Kodi's sister Sianoa is also an actress, which I didn't realize until the opening credits of HBO's Hung rolled by; she plays Thomas Jane's daughter in the new series.