2009 Comic-Con: Saturday Schedule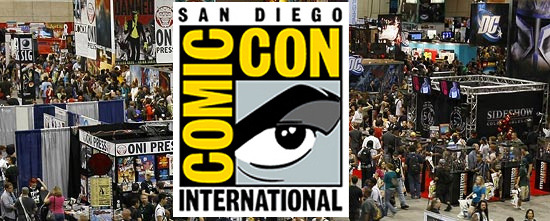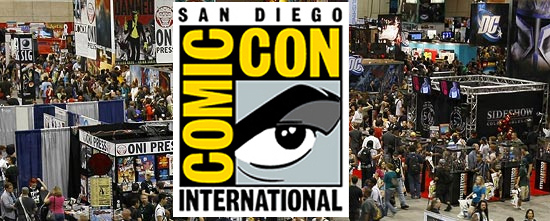 Yesterday San Diego Comic Con International announced updated Wednesday, Thursday and Friday line-ups for the 2009 convention. Today they have announced the schedule for the Saturday panels.
The Saturday event schedule seems very television heavy, and only one or two must see movie panels. Film panels include Extract, Zombieland, 2012, Boondock Saints II: All Saints Day, Iron Man 2, Emo Boy, Kevin Smith, Black Dynamite, Troma, Watchmen: Director's Cut, Star Wars Fan Films, and Give 'Em Hell Malone. Television panels include: Glee, The Simpsons, The Penguins of Madagascar, Warehouse 13, V, Heroes, Fringe, Human Target, True Blood, The Vampire Diaries, The Venture Bros., Myth Busters, Torchwood/Doctor Who, Weeds, Chuck, Eastwick, Lost, Family Guy, The Cleveland Show, Ben 10, and Sanctuary.
Head on over to comic-con.org to see everything, or check out our selected television/movie schedule after the jump.
Saturday, July 25
10:00-11:00 Writers' Guild Panel: PG-13 Animation
Is animation growing up, or is a PG-13 rating just an excuse for cartoon writers to use bad words and graphically kill off their characters? Alan Burnett (Green Lantern: First Flight), Matt Wayne (Hellboy Animated: Sword of Storms), Michael Jelenic (Wonder Woman), Charles Horn (Robot Chicken), Paul Dini (Return of the Joker), Greg Johnson (The Ultimate Avengers, The Invincible Iron Man, Doctor Strange), and Stan Berkowitz (Justice League: New Frontier, Superman/Batman: Public Enemies) will answer this as well as other, more serious questions about this new genre (if you don't count 1972's Fritz the Cat). Spoiler alert: Expect these writers to announce lots of exciting new projects. Room 3
10:00-11:00 Chuck Screening and Q&A
Chuck returns to Comic-Con! executive producers and co-creators Josh Schwartz (Gossip Girl) and Chris Fedak are joined by series stars Zachary Levi (upcoming Alvin and the Chipmunks ), Yvonne Strahovski (upcoming I Love You Too), Joshua Gomez (Without a Trace), Ryan McPartlin (Super Capers), Mark Christopher Lawrence ( The Pursuit of Happyness ), Vik Sahay ( This Is Wonderland ) , Scott Krinsky ( The O.C. ), Sarah Lancaster ( Everwood ) , and Adam Baldwin (Serenity) for a Q&A to discuss season three and screen an exclusive retrospective highlight reel. Plus, don't miss a special surprise from some of your favorite characters! Produced by College Hill Pictures, Wonderland Sound and Vision in association with Warner Bros. Television, Chuck airs Mondays at 8:00 PM ET/PT on NBC. Ballroom 20
10:15-11:15 Eastwick Pilot Screening and Q&A
Be among the first to see the pilot of the highly anticipated series Eastwick. Based on the John Updike novel and the hit film The Witches of Eastwick, this sexy and bold comedic drama centers on three young witches whose powers are awakened when a mysterious man moves to town. Be careful what you wish for—the perfect man truly may be the Devil! Series stars Rebecca Romijn ( X-Men), Lindsay Price ( Lipstick Jungle), Jaime Ray Newman (Veronica Mars), and Paul Gross (Due South ) join creator/executive producer Maggie Friedman (Related) and director/executive producer David Nutter (Terminator: The Sarah Connor Chronicles) to answer questions from the audience after this exclusive sneak peek. Produced by Warner Bros. Television, Eastwick airs Wednesdays at 10:00 PM ET/PT this fall on the ABC Television Network. Room 6A
11:00-12:00 Lost: The Final Season Begins, with Damon Lindelof and Carlton Cuse
In appreciation of all the fan support through five seasons of Lost, co-creator/executive producer Damon Lindelof and executive producer Carlton Cuse will pay homage to all the fans at their final Comic-Con appearance for Lost. Questions will be answered. Fun will be had. And you won't want to miss the surprises in store for the audience! Hall H
11:15-12:00 Family Guy
Seth MacFarlane and the brilliant creative minds behind Family Guy present a raucous discussion of what goes on behind the scenes of TV's most subversive animated hit. They'll also be offering a not-to-be-missed sneak peek at "Something, Something Dark Side," the Empire Strikes Back parody follow-up to Star Wars: Blue Harvest. Giggity! Ballroom 20
11:45-12:45 Ben 10It's all about Ben 10 at this panel featuring director Alex Winter and cast members from the upcoming live-action movie Ben 10: Alien Swarm coming this fall to Cartoon Network. Also appearing are Ben 10 Alien Force producer Glenn Murakami, story editor Dwayne McDuffie, and Yuri Lowenthal (voice of Ben). Make sure not to miss an exclusive look at what's coming next with a sneak peek at Generator Rex and the first images from the upcoming series, Sym-Bionic Titan, by creator Genndy Tartakovsky (Samurai Jack, Dexter's Laboratory). Room 6DE12:00-1:00 The Cleveland Show!
Comic-Con fans will get the first look at The Cleveland Show, the wickedly funny new spinoff from Family Guy starring America's favorite beleaguered animated African American, Cleveland Brown. Co-creators Seth MacFarlane, Mike Henry, and Rich Appel and voice castmembers Sana'a Lathan and Kevin Michael Richardson will all be on hand to discuss this new series premiering on Fox in the fall. Ballroom 20
12:00-1:00 Indiana Jones Fan Group Meeting: Indyfans and The Quest for Fortune and Glory
The Indyfans are back for their third year. Meet the documentary's filmmakers and discuss all things Indy. Talk with special guests from within the world of Indy merchandise, and don't miss out on giveaways, and more! It's time once again to keep up with the Joneses. Room 24A
12:30-1:30 Sanctuary
Before Sanctuary returns for an all-new season, don't miss your chance to go inside the action and behind the scenes. Join stars Amanda Tapping (Dr. Helen Magnus) and Robin Dunne (Dr. Will Zimmerman) as well as executive producers Martin Wood and Damian Kindler for an exclusive conversation about one of television's most innovative shows. Moderated by Michael Logan, TV Guide. Indigo Ballroom / Hilton Bayfront
1:30-2:30 Miramax: Extract
Mike Judge, the creator of such comedy classics as Office Space, Beavis and Butthead and King of the Hill is back with his latest film Extract starring Jason Bateman (Arrested Development), Mila Kunis (Forgetting Sarah Marshall), and Kristen Wiig (Saturday Night Live). Join Judge and his cast for a discussion and first look at scenes from their new film. Hall H
1:30-3:00 Glee
When FOX aired a special preview of its subversive new comedy musical series Glee after the American Idol finale, the response was through the roof, and fans have hungered for another episode ever since. The wait is over! Stars Matthew Morrison, Lea Michele and Cory Monteith and the producers of the FOX hit present a sneak preview screening of a never-before-broadcast episode with panel discussion to follow. Don't Stop Believin', Comic-Con fans! Glee is here! Indigo Ballroom / Hilton Bayfront
1:45-2:30 The Simpsons
Now entering its record-breaking 21st season on the air, The Simpsons is the longest-running series in the history of American television and a household name around the world. Get a behind-the-scenes look at what's coming up in the Simpsonverse, including never-before-seen highlights from the upcoming "Treehouse of Horror XX," with a panel including Simpsons creator Matt Groening, showrunner Al Jean, executive producer Matt Selman, and supervising director Mike Anderson. Ballroom 20
2:00-3:00 Nickelodeon's The Penguins of Madagascar: Making a Splash
Executive producers Mark McCorkle and Bob Schooley (Kim Possible), supervising producer Bret Haaland (Futurama), creative consultant and voice of Skipper Tom McGrath (Madagascar 1 & 2), and cast members John DiMaggio (Rico), Jeff Bennett (Kowalski), and Danny Jacobs (King Julien) preview a never-before-seen clip from an upcoming Penguins special and perform a table read from a new episode. Followed by Q&A as they discuss the process of bringing the popular Penguins from the big screen to their very own series. Moderated by Rich Magallanes, executive director for Nickelodeon. Room 7AB
2:15-3:15 Warehouse 13
This summer, the unknown has an address in the new Syfy Original Series, Warehouse 13. Stars Eddie McClintock (Pete Lattimer), Joanne Kelly (Myka Bering), Saul Rubinek (Artie Nielsen), Allison Scagliotti (Claudia Donovan), Jack Kenny (executive producer/showrunner) and David Simkins (executive producer) reveal confidential information. Room 6A
2:45-3:45 V Pilot Screening and Q&A
Already one of the most talked-about new series of the upcoming television season, catch a special screening of the pilot episode of V, a re-imagining of the groundbreaking miniseries, followed by a Q&A with stars Elizabeth Mitchell (Lost), Morris Chestnut (The Cave), Joel Gretsch (The 4400), Morena Baccarin(Firefly), and Scott Wolf (Go), along with executive producers Scott Peters (The 4400), Jeffrey Bell (Alias), Steve Pearlman (Related) and Jace Hall (Chadam). From HDFilms in association with Warner Bros. Television, V will premiere midseason on the ABC Television Network. Ballroom 20
2:45-3:45 Sony Pictures: Zombieland and 2012
Sony Pictures previews two exciting new movies at Comic-Con!
Zombieland —What if the Zombies won? Columbus (Jesse Eisenberg) has made a habit of running from what scares him. Tallahassee (Woody Harrelson) doesn't have fears. If he did, he'd kick their ever-living ass. In a world overrun by zombies, these two are perfectly evolved survivors. But now, they're about to stare down the most terrifying prospect of all: each other. Also starring Emma Stone and Abigal Breslin as two sisters who seem to constantly cause even more trouble for our erstwhile heroes. Appearing on stage: Woody Harrelson, Jesse Eisenberg, Emma Stone, and director Ruben Fleischer.
2012—Director Roland Emmerich has tried to destroy civilization before, but nothing you've seen will prepare you for what he has in store for the world in 2012. Never before has a date in history been so significant to so many cultures, so many religions, scientists, and governments. 2012 is an epic adventure about a global cataclysm that brings an end to the world and tells of the heroic struggle of the survivors. Roland will be onstage to reassure us it's all make-believe...we hope.
Hall H3:15-4:15 Heroes: Exclusive First Look at "Redemption" and Q&A with Tim Kring and Castmembers
Fasten your seatbelts and get ready for an amazing roller coaster ride as Heroes debuts a trailer for "Volume 5: Redemption." Participate in a Q&A session with creator Tim Kring and some of the cast. Indigo Ballroom / Hilton Bayfront
3:30-4:30 Entertainment Weekly: Totally Lost with Doc Jensen and Dan Snierson
EW's Jeff "Doc" Jensen and Dan "Dan" Snierson prep you for Lost's final season with their dubious insights, crazy theories, and oddball tomfoolery. Surprises? Maybe. Pig E.? Let's hope not. Free cookies? No. Room 5AB
3:30-4:30 Boondock Saints II: All Saints Day
In the sequel to the cult classic The Boondock Saints, director Troy Duffy brings back Sean Patrick Flanery (Suicide Kings, Powder), Norman Reedus (American Gangster, Blade 2), and Billy Connolly (The Last Samurai) and introduces Carlo Berardinucci, Clifton Collins Jr. (Star Trek, Crank 2) as a new partner-in-crime, and Julie Benz (Rambo, Punisher 2, Saw) as the sexy FBI operative who is hot on their trail. Join Troy and the cast for a panel discussion about the new film and the world premiere of the trailer. Room 6DE
4:00-5:00 Fringe Screening and Q&A
Fringe cast members Anna Torv (upcoming The Pacific), Josh Jackson (Shutter), and John Noble (The Lord of the Rings: The Return of the King) appear with consulting producers Alex Kurtzman and Robert Orci (Transformers: Revenge of the Fallen) and executive producers Jeff Pinkner (Lost) and J. H. Wyman (Keen Eddie) for a Q&A with fans and an exclusive video presentation. Join the discussion of this critically acclaimed thriller, which explores the ever-blurring line between science fiction and reality, where hybrid monsters tear through sewers, thieves walk through walls and portals open to worlds unknown. From Bad Robot Productions in association with Warner Bros. Television, Fringe airs Thursdays at 9:00 PM ET/PT this fall on FOX, premiering September 17. Fringe: The Complete First Season will be released on DVD and Blu-ray Hi Def September 8. Ballroom 20
4:00-5:00 Paramount Pictures and Marvel Entertainment: Iron Man 2
Paramount Pictures and Marvel Entertainment present the sequel to the blockbuster film based on the legendary Marvel superhero Iron Man. Directed by Jon Favreau, Iron Man 2 stars Robert Downey Jr. Joining Downey in the cast are Gwyneth Paltrow, Don Cheadle, Scarlett Johansson, Sam Rockwell, Jon Favreau, Clark Gregg, John Slattery, Mickey Rourke, and Samuel L. Jackson. Hall H
4:30-5:30 Vanguard Films: Emo Boy
Vanguard Films will announce its slate of new projects including Emo Boy, the big screen adaptation of Stephen Emond's SLG graphic novel, with a special Q&A with the movie's director, Kyle Newman (Fanboys). Other projects to be announced include Illegal Aliens, a new graphic novel/movie franchise being produced by Vanguard and Platinum Comics, and Alien Band, an animated feature set to go into production in the fall of 2009. A preview will also be shown from Vanguard's upcoming film Space Chimps 3D. Room 10
4:45-5:45 Spotlight on J. Michael Straczynski
Triple Eisner-nominated and Comic-Con special guest J. Michael Straczynski presents a freewheeling discussion about his work in comics (Brave and the Bold, Thor, Amazing Spider-Man), television (Babylon 5), movies (Changeling, Ninja Assassin, Forbidden Planet, Lensman and more) and anything else that comes to mind. Every year JMS's talks are a focus of heated conversation, and that's just between us and law enforcement when they show up midway through... Room 6A
4:45-5:55 Human Target Pilot Screening and Q&A
Join Human Target stars Mark Valley (Fringe), Chi McBride (Pushing Daisies) and Jackie Earle Haley (Watchmen), the show's executive producers Jon Steinberg (Jericho), Brad Kern (Lois & Clark: The New Adventures of Superman) and Peter Johnson (Supernatural: Origins Comic Book Series), and co-creator of the original Human Target comic, Len Wein (Swamp Thing), for an exclusive Q&A and a screening of the highly anticipated pilot based on the popular DC Comics title about a mysterious agent for hire who assumes different identities, literally becoming a human target on behalf of his clients. From Bonanza Productions Inc. in association with Wonderland Sound and Vision, DC Comics and Warner Bros. Television, Human Target will air Wednesdays at 9:00 pm ET/PT beginning in January 2010 on FOX. Room 6BCF
5:15-6:15 True Blood Panel and Q&A session
Just as it seemed things were settling down in the backwoods Louisiana town of Bon Temps, deadly new twists and evil forces have begun to threaten Sookie Stackhouse and everyone around her. Mixing romance, suspense, mystery, and humor, True Blood kicked off its 12-episode second season on June 14 on HBO. The series, which earned a Golden Globe nomination for Best Television Series—Drama for its debut season, follows the romance between waitress Sookie Stackhouse (Anna Paquin, the X-Men films; Golden Globe-winner for True Blood season one; Oscar-winner for The Piano), who can hear people's thoughts, and her soul mate, 173-year-old vampire Bill Compton (Stephen Moyer, The Starter Wife). Alan Ball (creator of the Emmy-winning HBO series Six Feet Under) created and serves as executive producer of the series, which is based on the best-selling Sookie Stackhouse novels by Charlaine Harris. The series also features Nelsan Ellis (The Soloist) as Lafayette Reynolds, Rutina Wesley (How She Move) as Tara Thornton; Sam Trammell (Medium, Law & Order: Criminal Intent) as Sam Merlotte; Michelle Forbes (In Treatment, Battlestar Galactica) as Maryann Forrester; Alexander Skarsgård (Generation Kill) as Eric Northman and Deborah Ann Woll (The Mentalist) as Jessica Hamby. Moderated by Kate Hahn of TV Guide. Ballroom 20
5:15-6:45 Kevin Smith
Direct from New York City, where he's directing the new Warner Bros. film A Couple of Dicks starring Bruce Willis, Seann William Scott, and Tracy Morgan, Kevin Smith returns to the Hall H stage for his annual report to the masses. And remember: he flew in just for YOU. Hall H
5:55-7:00 The Vampire Diaries Pilot Screening and Q&A
The Vampire Diaries stars Nina Dobrev (Degrassi: The Next Generation), Paul Wesley (Killer Movie), and Ian Somerhalder (Lost) appear with executive producer/writer Kevin Williamson (Scream), writer Julie Plec (Kyle XY), and executive producer Bob Levy (Gossip Girl), as the series makes its Comic-Con debut with a screening of the much-talked-about pilot, followed by a Q&A. This edgy and romantic new drama, in which two vampire brothers—one good, one evil—are at war for the soul of one girl, is based upon the bestselling book series of the same name. Lynette Rice of Entertainment Weekly moderates. From Bonanza Productions Inc., Outerbanks Entertainment and Alloy Entertainment in association with Warner Bros. Television and CBS Television Studios, The Vampire Diaries airs Thursdays at 8:00 PM ET/PT this fall on The CW, premiering September 10. Room 6BCF
6:00-7:15 Adult Swim Development: The Venture Bros. Panel
Fans will get the chance to hear from the Adult Swim development team and get a first look at upcoming Adult Swim programming. Nick Weidenfeld, director of development, and Matt Harrigan, executive producer/series writer, will give highlights of what's in the tube for fall 2009. Then Venture Bros. co-creators Jackson Publick and Doc Hammer, James Urbaniak (voice of Dr. Venture) and Mike Sinterniklaas (voice of Dean Venture), will also be on hand to discuss the hit series The Venture Bros. and give fans insight into its future. Vice president of production for Adult Swim Keith Crofford moderates. Room 6A
6:30-7:30 Black Dynamite
He's super cool and he knows kung-fu! When "The Man" murders his brother and floods the ghetto with adulterated malt liquor, Black Dynamite is the one hero willing to fight all the way from the blood-soaked city streets to the hallowed halls of the Honky House. Michael Jai White (The Dark Knight) stars as Black Dynamite, a gun toting, nunchuck-wielding ladies' man and soul brother. Director and writer Scott Sanders (Think as Thieves) is joined by cast members including Arsenio Hall, Tommy Davidson (In Living Color), Byron Minns (Undisputed), Salli Richardson-Whitfield (I am Legend), moderator Elvis Mitchell, and more! Room 5AB
6:30-8:00 Troma Roast
In Tromaville, you don't just roast 'em, you nuke 'em! Join Tromaster of Ceremonies Trey Parker (South Park) for this no-holds-barred roast of Troma Studios president Lloyd Kaufman, featuring past and present BFFs: Stan Lee (Spider-man, Fantastic Four, Daredevil, Hulk), Brian Pulido (Lady Death, Evil Ernie) Richard Saperstein (Planet Terror, John Q, Se7en), James Gunn (Scooby Doo, Dawn of the Dead, Slither) Batton Lash (Supernatural Law) Steven Paul (Ghost Rider, Baby Geniuses), Penelope Spheeris (Decline of Western Civilization, Wayne's World), Ron Jeremy (Boondock Saints, Studio 54, Killing Zoe), Joe Lynch (His Name Was Jason: 30 Years of Friday the 13th), Mick Garris (Stephen King's The Stand, Sleepwalkers), Chad Gilbert (lead guitarist, New Found Glory), John Rieber (G4 senior VP), Jean Prewitt (Independent Film Alliance), Matt Stone (South Park), Terry Stewart (president, Rock and Roll Hall of Fame), and more! What a way to celebrate 35 years of Reel Independence with Troma Entertainment! Indigo Ballroom / Hilton Bayfront
Nighttime Programs
7:15-8:15 Myth Busters Q&A and Sneak Peeks
The series called "the best science program on television" by the New York Times returns for its second year at Comic-Con. Jamie Hyneman and Adam Savage are joined by Tory Belleci and Grant Imahara to discuss their offbeat series that uses science to determine the truth behind urban legends. Adam, Jamie, Grant and Tory will answer questions and share behind-the-scenes stories and showcase world premiere sneak peeks of upcoming myths. MythBusters airs Wednesdays at 9:00 PM E/P on Discovery Channel. Room 6BCF
7:30-10:00 Torchwood/Doctor Who Screenings—
Torchwood: Children of Earth, an epic television event from BBC America's highest rated series, has the Torchwood team facing their fiercest threat to date—one that throws the future of Torchwood and the entire human race spiraling into danger. The finale finds Torchwood defenseless and Gwen Cooper (Eve Myles) standing alone, as the final sanction begins. As violence erupts and the world descends into anarchy, an ordinary housing estate becomes a battleground where the future of the human race will be decided. Torchwood: Children of Earth hits stores on Blu-ray and DVD July 28, 2009.
In the first of the final four specials from Russell T Davies and starring David Tennant, Doctor Who: Planet of the Dead, finds the Doctor trapped on a desert alien planet with a red double-decker bus but no Tardis. He soon discovers the mysterious planet holds terrifying secrets hidden in the sand and is forced to team up with a mysterious, aristocratic thief, Lady Christina (Michelle Ryan, Bionic Woman), to get back to Earth. But time is running out, as the deadly Swarm gets closer. This is the first Time Lord adventure to be shot in HD. Doctor Who: Planet of the Dead hits stores on Blu-ray and DVD July 28, 2009
Room 6DE8:00-9:00 Showtime: Weeds
If you are addicted to Weeds, this is the panel you don't want to miss! Find out everything you want to know with a Q&A and interview with the series creator and its stars! Featured panelists include Jenji Kohan (creator/executive producer), Hunter Parrish (Silas), Justin Kirk (Andy), and other cast members. Weeds airs on Mondays at 10:00 pm on Showtime. Indigo Ballroom / Hilton Bayfront
8:30-12:15 Watchmen: Director's Cut
Live with Zack Snyder! Plus Sneak Peek of Batman: Arkham Asylum with Mark Hamill & Kevin Conroy— Get the ultimate inside track on two landmark Warner Bros. releases with the world premiere screening of Watchmen: Director's Cut and a first-look panel for the breakout Warner Bros. Interactive Entertainment game Batman: Arkham Asylum. The festivities will open with a Batman: Arkham Asylum panel led by the benchmark voices of Batman and the Joker, Kevin Conroy (Batman: The Animated Series) and Mark Hamill (Star Wars), as well as award-winning writer Paul Dini (Batman: The Animated Series). Then Watchmen director Zack Snyder, legendary illustrator Dave Gibbons and actor Jackie Earle Haley discuss the nuances of the film's Director's Cut— which hit stores on July 21. And for the pièce de résistance, Snyder will host a BD Live Community event—providing a real-time, in-person director's commentary for Comic-Con attendees (and BD Live viewers at home) as the film rolls. Audience members will have the opportunity to ask questions of Snyder via computer kiosks within the room, making for an entirely interactive viewing experience. Room 6BCF
8:30-9:30 Atom.com, Lucasfilm, and Olivia Munn talk Star Wars Fan Movies
Olivia Munn (G4's Attack of the Show) joins Atom.com, Lucasfilm, and top fan filmmakers to discuss 2009's newly anointed Fan Movie Challenge winners and new developments in fan filmmaking. Get a sneak preview of the highly anticipated sequel, Star Wars Gangsta Rap: Chronicles, and hear about Olivia's new fan film project (hint: it could be yours). Also joining the panel will be former George Lucas Selects Award winners Trey Stokes (Pink Five), Robert Reeves (Padme), and Chris Crawford (Star Wars Gangsta Rap). Moderated by Chris Albrecht, co-editor of NewTeeVee.com. Room 7AB
9:30-11:30 Pander Brothers of Grendel Fame Screen Debut Feature Film, Selfless
Awarded Best Feature at the BendFilm Fest and Best Supporting Actor (Mo Gallini), Selfless is a psychological thriller about an architect whose life is terrorized by a spiteful identity thief. Director/co-writer Jacob Pander (Accelerate, Grendel) and producer/co-writer Arnold Pander (Tasty Bullet, Grendel), actor Mo Gallini (2 Fast 2 Furious, Mr. & Mrs. Smith), and film critic David Walker (Badazz MoFo) are on hand for this special advanced screening and panel Q&A! Room 7AB
10:00-12:00 Give 'Em Hell Malone Screening and Panel
Catch an exclusive early screening of the upcoming noir-action film Give 'Em Hell Malone, followed by a Q&A with stars Thomas Jane (The Punisher) and Chris Yen, along with director Russell Mulcahy (Highlander) and writer Mark Hosack. Room 6DE