Let The Right One In Director To Adapt John Le Carre Novel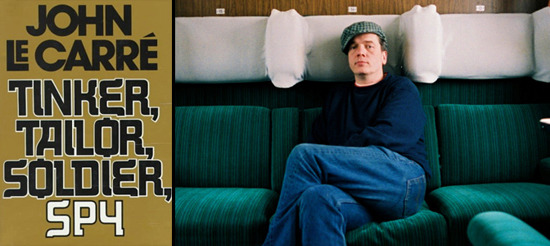 According to THR, Tomas Alfredson, the director of Let the Right One In, has been signed to adapt John Le Carre's cold war novel Tinker, Tailor, Soldier, Spy. The novel is the first of the informal 'Karla Trilogy' that also features The Honourable Schoolboy and Smiley's People. Le Carre is working on the screenplay with playwright/screenwriter/director Peter Morgan, and the reputable Working Title is putting it all together. Alfredson has proven that he can do wonders with tension and suspense, and putting him on a period espionage picture sounds great.
The story was very much a product of the cold war, and while current reports don't specify whether it is being adapted as a period piece or an update, I'd expect the former. If an update was needed, it could easily be tweaked into a relevant modern story of paranoia and uncertainty within the intelligence community. The story has retired intelligence agent George Smiley being called back to serve when a high-ranking member of MI6 is suspected of being a Soviet mole.If the update route happens that'll take some tweaking, but there is no shortage of options for replacement. I do hope that Le Carre and Morgan keep all the jargon that was used in the novel; Le Carre called MI6 'the circus', black bag ops were 'scalphunters' and American agents were 'the cousins'.
Tinker, Tailor, Solider, Spy has been adapted twice before: by the BBC for television in 1979 with Alec Guinness starring as George Smiley, and then by BBC Radio 4 in 1988. A 1982 BBC mini-series later adapted Smiley's People (again with Guinness), the third book in the trilogy, but the middle chapter has never made it to screen. The shoes of Alec Guinness will be difficult to fill, but pelnty of British actors can make good with this material. Let's get Bob Hoskins in there; he'll kill it.