Tobey Maguire Will Star In Indie Film The Details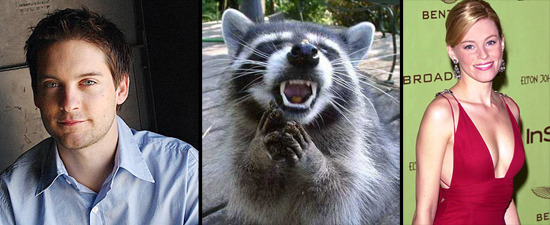 Tobey Maguire is joining the cast of The Details, an indie black comedy which seeks to address the severe shortage of raccoon infestation movies that has plagued the cinema of late. According to Variety, he'll be husband to Elizabeth Banks, with Ray Liotta, Dennis Haysbert, Anna Friel and Laura Linney also appearing. Directing is Jacob Estes, whose credit was last seen on 2004's decent and (now) frequently forgotten Mean Creek. Also factoring into the film: a bunch of determined raccoons.
This isn't some suburban Caddyshack, though. Maguire and Banks play a couple who are having some problems. There's been some infidelity, they don't know if they should stay together...and then the raccoons show up, like the shark in Jaws. (More maybe more like the winged aggressors in The Birds, if we're talking metaphors.) The critters are destroying the back yard, and "a disagreement over how to dispatch the pests creates a chain reaction of mishaps that include a murder by bow and arrow," says the trade. Which, when you get right down to it, sounds awesome, especially with this cast. Please let Liotta be holding the bow. It's not too much to ask.
Though it's easy to make fun of the raccoon infestation plot angle, it's good to see Maguire in an indie. Since taking up as Peter Parker for Sam Raimi's Spider-Man films, we haven't seen Maguire do much else. He took that role in '02 and Seabiscuit, in '03, is the only other major role he's had since. There was Soderbergh's The Good German, but he was a relatively small player there. He's got Brothers coming up (trailer for which just hit) but it will be good to see him in something small before Spider-Man 4 hits. After the string of films that led to Maguire getting the Spidey gig in the first place, it's been weird (but not unexpected, given the demands of the films) seeing him do little else. This is a role that he'd evidently thought about, but it went to James McAvoy, who later had to drop out, clearing a path for Maguire to do it after all.