Comic-Con: John Romita Jr Joins The Kick-Ass Panel; New Exclusive Photos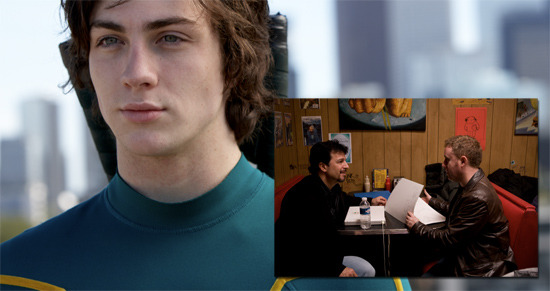 Last week we were the first to break the news that Matthew Vaughn would be premiering footage from his big screen adaptation of Kick-Ass at a panel at San Diego Comic-Con. I have some more big of new news regarding the panel and some new exclusive photos for you to look at.
Comic book artist and one of the film's producers John Romita Jr has been officially announced as one of the panelists joining director Matthew Vaughn (Stardust, Layer Cake) on Thursday, July 23 during the Kick-Ass panel (which is toward the end of the day). I can't tell you how excited I am to finally see some footage from this film.
On to the exclusive photos: After the jump, I have the full photo of Aaron Johnson as Kick-Ass / Dave with his hood off (partly seen above) and behind the scenes snap of John Romita Jr. (left) and creator/writer Mark Millar (right) on set.
Plot Synopsis (beware of possible comic book spoilers): Dave Lizewski is a kid growing up in a rundown suburb of America, he isn't a gamer, he isn't a jock, he isn't a mathlete, he's just a regular kid. When he is not hanging out at the local comic store with his friends Todd and Marty, he is fantasising about his school teacher and Katie Deauxma, the class hottie. The only thing that is unusual about Dave is that about a year ago his Mother died. But somehow through this blend of normality, teenage angst and irritation at being continually mugged, Dave makes the decision to become a superhero' KICK ASS! Dave's first foray into being a Superhero results in him being stabbed and run over. When Dave recovers he realises he can't walk away from being a hero, and when he successfully steps in on a mugging he brings himself to the attention of the US media and Frank D'Amico could this be the guy who knicked his coke? As Dave gets sucked into the dark world of vigilante crime fighting he gains a sidekick named 'Red Mist'.