Is Brian Azzarello's 100 Bullets Being Developed As An HBO Series?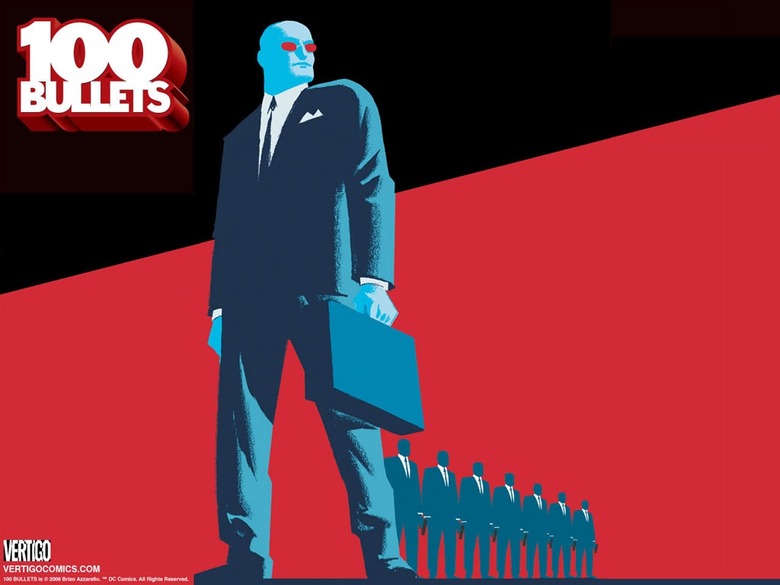 We may receive a commission on purchases made from links.
Y: The Last Man was my gateway drug back into the world of comics after doing a stint in the superhero books in the early 1990's. And while I loved superhero stories, I wasn't that into superhero comics (or at least not the ones being published at the time) so I was hesitant to jump back into the world of colored pictures and word bubbles.
I use to listen to this podcast called Geekdrome, which some of you may recognize because frequent /Filmcast guest co-host and friend Dan Trachtenberg use to co-host before he went legit with the Totally Rad Show. Geekdrome has this feature called "Comics For People Who Don't Like Comics" which would often recommend graphic novels outside of the tights and the capes genre. It was through these recommendations that I learned to love comics again. As I said above, first it was Y: The Last Man (which I recommend to anyone who has had trouble or just never tried reading comics) and then I jumped on a series called 100 Bullets.
What is 100 Bullets about? The Eisner and Havey Award-winning comic book hinges on the question of whether people would take the chance to get away with revenge. It's a Twilight Zone-like morality decision, where a mysterious Agent named Graves approaches people who have been the victim of some kind of terrible injustice or wrong, and gives them the chance to set things right in the form of a nondescript attaché case containing a handgun, 100 untraceable bullets, and a photograph of a person, along with incontrovertible evidence that target presented is primarily and personally responsible for recipient's woes. The bullets are completely untraceable and that any law enforcement investigation that uncovers one of them will immediately stop.
It begins very episodic, with new people being given the chance for revenge/redemption, and the only reoccurring character being the mysterious Agent Graves. Of course, the story develops into more a serial, and becomes about the organization that Graves belongs to and as you may expect, there is a very interesting story that comes to play. You can pick up the first graphic novel on Amazon for around $10. AS I suggested in my story above, it is a gateway graphic novel — one of those books for someone who really hasn't gotten into the world of superhero comic books.
The last issue of the comic book, Issue #100, was published in April after a decade run with the same writer/artist team for its entire run. I won't lie, I stopped reading sometime around the end but plan on catching up now that the entire series is in graphic novel form. Reading the comics its hard not to imagine the comic adapted into a series for HBO, Showtime or possibly AMC.
MTV got a chance to talk with Azzarello while he was promoting an upcoming event for the end of the series, a party aptly being referred to as a funeral, and the comic book writer hinted at a future to the series. When asked about a potential movie adaptation, Azzarello was quick to respond
Television — there's an idea!" Before continuing "That's all I'll say. Television... or maybe something that's not just TV.
And everyone who has ever watched The Sopranos, True Blood, Six Feet Under or The Wire knows that HBO's motto is, "It's not TV, it's HBO." Could Azzarello be hinting that a HBO series is in development? I hope so. I can't tell you how cool that could be.