Aaron Sorkin's Facebook Script: "Unpredictable, Funny, Touching And Sad"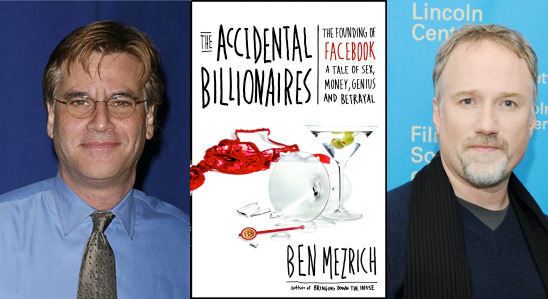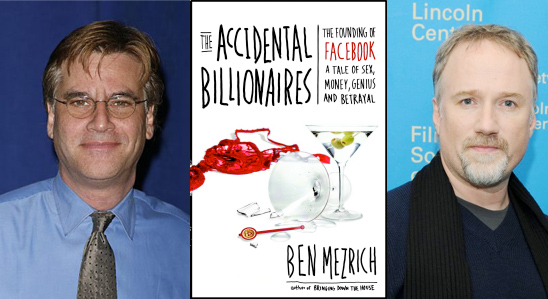 No surprise that a lot of us were skeptical when Facebook: The Movie was announced, but because Aaron Sorkin (someone who describes himself as 'computer ignorant') was tapped to write, you had to wonder what was up. Now ScriptShadow has a review of the script, currently titled The Social Network, and he says it is "a story about greed, about obsession, about our belief that all the money in the world can make us happy. But it's also unpredictable, funny, touching, and sad."
As we've reported, the script, which David Fincher is still in talks to direct, isn't some crazy hybrid of online teen shenanigans and Tron, but an adaptation of the book Accidental Billionaires, about the founding of the site and the behind the scenes power and personality struggles that went along with it. The story is about two friends at Harvard, the tech guy and the business whiz, how they created the internet's fastest-growing phenomenon and the conflict that went along with it. You've got Mark Zuckerberg, an ADD coding machine who creates sort of Harvard-exclusive 'hot or not' website in an hour after being dumped. That leads to a deal with rich brothers Cameron and Tyler, who want Mark to code their Harvard-only MySpace ripoff. Mark agrees, but at the same time is creating what will quickly become FaceBook with his best friend Eduardo, the business whiz. Then Sean Parker, Napster co-founder, comes into the picture, and conflict explodes.
ScripShadow says the draft has "a lot more humor than I expected – to the point where I wondered if it should be classified as a comedy," and that even things like the weird Facebook arguments that erupt between friends and lovers about relationship status listings are in there, but that they work because it's the guys who created that infrastructure, not just some schmoe. The review is also taken with Sean Parker as a character, saying that the brash egomaniac tech star could be 'iconic'.
The script isn't perfect yet. It's long, for one, at 162 pages. And it is a strange beast that "doesn't use any discernible structure." ScriptShadow says "I was constantly looking for a base, an obvious story or goal. And there isn't any." But despite that, it evidently works, because of the characters (at which Sorkin typically excels), the humor and the drama inherent to a situation in which these people go from zero to billionaire in no time at all. So there's work to be done, but a lot of potential. Reading the review, I wonder about David Fincher's interest and involvement. It sounds, frankly, like something that is a lot more "normal," conventially funny and approachable than anything he's done to date. I'd like to see what he'd do with the structure, characters and presentation, while retaining the core story. Check out ScriptShadow's entire review here (and if it's not obvious, spoilers lie within).