Baywatch: The Movie Gets A New Writer/Director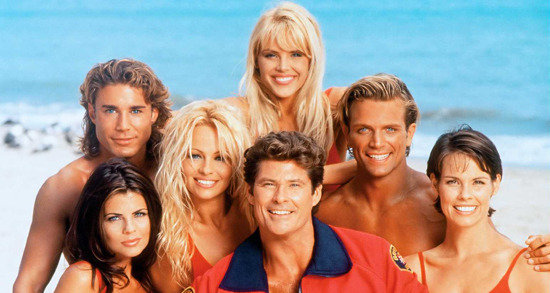 If you're like me, you've hoped that the Baywatch movie would just dry up and go away. The television show, which ran an astounding ten-year run (arguably dying out just as acceptance of the internet rendered a TV show filled with slo-mo jiggling red bathing suits irrelevant) has long been considered fodder for a theatrical film. A few years back there was news/rumor that Jessica Simpson would topline, but that never happened. Now Jeremy Garelick, who came up in the business working for Joel Schumacher, then co-wrote The Break-Up and became part of Todd Phillips' rewrite crew (he did uncredited work on The Hangover) has been tapped to rewrite and direct Baywatch as a broad comedy. Get it? 'Broad'. Yeah, I know, never mind.
To Garelick's credit, he claims never to have seen the original show. He was tapped to rewrite the 2005 draft by Jay Sherick and David Ronn, which was written as more of an action movie. "It felt like the template to do a movie that was similar to Stripes and Police Academy, the comedies I loved growing up," Garelick said. Stripes, OK. Police Academy? Eugh. In other words, write some really silly, easy to digest material, cast it with boobs and oddballs and you've got the recipe for a six-film series that will be wholly irrelevant well before it is finished. Got it!
What's the plot? According to Variety, "The script now focuses on two unlikely lifeguard candidates trying to catch on alongside the buff bodies that will be as abundant in the film as they were in the TV series." Too bad David Hasslehoff has aged beyond acceptable suspension of lifeguard disbelief, because I'd love to see him as a Police Academy style hardass antagonist. It would only be fitting. No word on casting yet, or even a real green light; Paramount has the film (it was one of the titles the studio got in the split with Dreamworks) and new president Adam Goodman is evidently considering it strongly.