iPhone Apps For Movie Geeks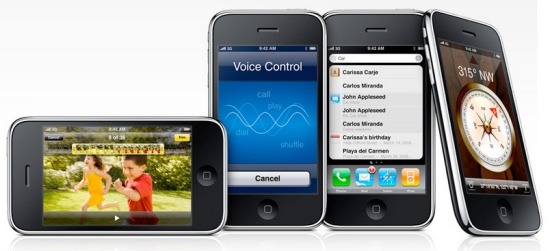 Most everyone I know owns an iPhone, and most everyone I associate with is some form of movie geek. Every time I'm out with friends there seems to be an exchange of an iPhone app tip. What do you use to access IMDb? Netflix? Twitter? Which got me thinking — why hasn't anyone put together a good listing of iPhone apps for movie geeks? So here goes my first attempt and compiling a listing of good iPhone apps that every movie geek should know about.
Flixter's Movies is essential for anyone who still sees movies theatrically. The most common use for the app is movie listings. You can instantly see what movies are playing at theaters near you (making nice use of the built in GPS) or using a list of your saved favorite theaters. You can also easily view each movie's Rotten Tomatometer rating or Flixter user rating (or arrange the now playing listings by such) which makes it easier to find a movie that might be worthwhile. And through Facebook connect, you can also see what your friends have rated the recent releases. Of course, you can also purchase tickets directly through the app (which uses movietickets.com).
Unlike the other movie ticketing apps, Movies is based on an existing database – Flixter (which many of you may have used in conjunction with their popular Facebook app). What this means is that the app has an extensive catalog of over 50,000 films, each with video clips and trailers which can be streamed over edge or 3G. The DVD tab lets you see what movies just got released on DVD, or are coming out in the coming weeks. FREE
IMDb on the iPhone?
I'm an IMDb fanatic. I'm on the site at least 100 times a day, looking up who was in that movie, what IMDb user rating a film has, seeing what other films a cinematographer has shot, and countless other queries. IMDb Pro members are granted access to a specially formatted mobile version of the site at http://pda.imdb.com, but its not as good as a simple application which would allow you to enter and search movie, cast and crew information. Sadly, IMDb has not released an official iPhone app of their own, leaving the field to a few independent developers. There are two good choices in this area – one is free, the other is $1.99.
Movie Genie is probably the best IMDb replacement app for the Apple iPhone, but it will cost you $1.99. If you're a fanatic like me who is always looking up information to settle trivia bets on the go, the small price is well worth it.
The app is exactly what you think it is. You can search for any person, movie, tv series, video game on IMDB using a simple app interface. You can access full biography information, photos, and filmography. The app stores your browsing history for future use, and you can favorite movies of people to make them easily accessible later. $1.99
Movie Star is a little less intuitive than Movie Genie, but you can access most of the same information. Its feature light: no browsing history, no ability to flag titles or people for later, nothing more than the vanilla features. I can't put into words why Movie Genie feels like a better application, I can only tell you that it feels better built, and you'll end up using it more in the end because of that.
Does Movie Star work? Is it a means to an end? Sure. I used it for a couple weeks before finding Movie Genie. It works, you can use it. But I highly recommend just spending the couple dollars for a better developed app – Movie Genie. FREE
iPhilix: Need to reorder your Netflix queue on the go? Did your friend recommend a film you want to add to the top of your rental list? iPhilix is probably the best app to manage your list of mail rentals. You can add, delete, or reorder titles. Manage multiple profiles and accounts, search for similar titles, and filter by DVD, instant or blu-ray. The app has a bunch of cool usability features like, if you flip your phone upside down, it will move your view to the bottom of your list. For someone like me that has hundreds of movies in my queue, its great to have an option instead of scrolling with my finger for 60-70 seconds. $2.99
PhoneFlicks is a good free alternative.
i.TV:Quickly find out when your favorite tv shows and movies are playing on tv, as well as access your TiVo, remotely access and program your DVR, manage your Netflix or order tickets (using MovieTickets.com). They also have tv previews and movie trailers.
I use it to make sure I'm not missing a tv show on the go, but the Netflix and movie theater features are best left for the other dedicated apps mentioned above. FREE
SnapTell: You're at Best Buy, and you're not sure if Kill Bill Volume II is worth spending $30 for on Blu-ray. SnapTell is the app for you. You just take a photo of the dvd cover (or any product cover... this isn't just limited to movies) and within seconds the app will identify the product without you having to enter in one key on the touchpad. You're then presented with a list of online prices showing you how much you could save if you're willing to wait. They also include a list of local prices showing you how much that item is at other stores that might be in the area. Underneath that is a list of quick links that let you search the item on a bevy of popular sites: Amazon, Google prices, YouTube (watch a trailer?) IMDb (find out more about the film), Rotten Tomatoes (read some review quotes), Wikipedia, ebay, half.com, and more. It also saves a list of every item you "snapped" for future use, in case say, you want to mention the movie to one of your friends later on and get an opinion, or what-not. FREE
Runpee is an extension of the popular website runpee.com which tells you which points during a movie that you can safely "run" and go "pee" without missing any huge plot points or action scenes. The app tells you approximately how many minutes into a movie you should leave, an on screen cue for you to notice, how long you'll have before the story picks up again, and an accounting of what you're missing while you're away.
The App even comes with a timer so you can see at a glance how much longer you must "hold it" before the next possible "pee" break, and keeps track of time while you're on the go. Personally, I never leave a movie once the studio trailers begin. As a kid I made the mistake of leaving Twister right before a huge action sequence, and returned from the bathroom after a huge action sequence. Since then I've been careful to plan my bathroom break before a film. But if I needed to go, this app would help me feel better about leaving the theater. Too bad they're charging for it, even if it is only 99 CENTS
Skip or Stay: Have you ever missed one of those secret after-credit sequence scenes? For instance, SAmuel L Jackson as Nick Fury at the conclusion of Iron Man. This simple app that helps you decide if you should stay around to the end of the credits. Not much more to it. FREE (thanks to Joe B for the tip)
MovieLingo: Everyone has seen the iPhone advertisement that features an app called urbanspoon, which basically allows the user to shake the iphone to randomly select a restaurant in a slot machine style. MovieLingo is the equivalent for movie quote fanatics. It's simple. You lock in a genre or decade, or go free style, and shake the iphone which randomly selects a famous movie quote. You play the audio file and you and your friends have to guess what it is. You can check to see the answer. Its pretty simple. Sure, there are bookmarking features and the ability to buy the movie on Amazon or add the film to your Netflix queue, but it all really comes down to the movie quottage. FREE
Other Apps
Dof: Budding cinematographers can calculate the depth of field with this easy to use app. $1.99 (zakaibitz)
Moviefone: More movie ticketing
Fandango: And another movie ticketing app
Lightsaber Unleashed: Turn your iPhone into a Star Wars lightsaber through the magic of accelerometer-triggered sound effects.
I'm sure there are a lot more apps that we're missing. Tell us about your favorite movie-related iPhone apps in the comments below!